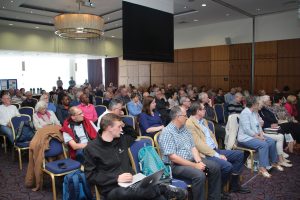 This was the message given by Michael from Egypt (pseudonym used for security reasons) at Church in Chains' annual conference on Saturday 9 September. He described the persecution of Christians in Egypt as a "shaking" of the church but not a surprising thing as the church in Egypt has known many eras of persecution.  He said that the main challenge for the church in the Middle East and in Egypt is to let its light shine in the midst of persecution. He quoted Matthew 5 v13-16,  "You are the light of the world… let your light shine before others, that they may see your good deeds and glorify your father in heaven."
He told the conference that Egypt has 94 million people, 40% illiterate, and that when people are illiterate they trust what they are told, mainly the authority of the mosque. There are 15-17 million Christians in Egypt (15 million Coptic Orthodox; 1.5 million Coptic Evangelicals and 250,000 Coptic Catholics) and 2626 official churches. The Christian community in Egypt is the largest in the Middle East; half of all Christians in the Middle East live in Egypt. The word Coptic means "Egyptian Christian".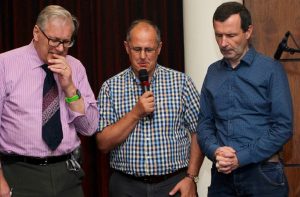 Michael challenged delegates to "Pray for the Christians of Egypt and the Middle East to shine for Jesus. Do not pray for the attacks to end – God already knows." He said, "The images and reports [of Egypt in the news] are not telling you the true story of the Egyptian church. It's not a story of pain only; it's a story of victory. Egyptian Christians are not broken and defeated, but victorious, because we worship and enjoy the companionship of the living God. There are born-again Christians in the Orthodox, Catholic and Evangelical churches. They stand together and pray together."
Michael talked about the attacks by Islamic State terrorists on churches in Egypt since December 2016, in which over 100 people died. He showed a photo of coffins lined up at a funeral for 24 people, and a photo of a pile of shoes from Tanta. He said, "The big question is: who is our true enemy? Is it ISIS or Islamists or Salafists? Who is our ultimate enemy?" and then quoted Ephesians 6v12, "For our struggle is not against flesh and blood, but against the rulers, against the authorities, against the powers of this dark world and against the spiritual forces of evil in the heavenly realms."
 "Do we have hope?" he asked. "In the midst of suffering, persecution, discrimination, uncertainty? Not because of what is happening, but because, in the words of Lamentations 3v21-23, 'Yet this I call to mind and therefore I have hope: because of the Lord's great love we are not consumed, for his compassions never fail. They are new every morning; great is your faithfulness.'"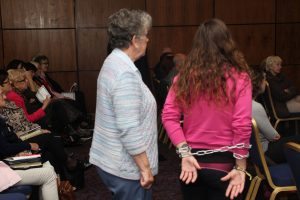 Michael asked for volunteers to act out various persecution scenarios, using a rope, chain and veil to tie up, chain and veil three delegates. Asked how he would feel, the roped man said that he might feel afraid "…but Jesus will be with me". Veiled women can't go out without a man; they stay at home to cook and clean. If a Christian woman goes out in some parts of Egypt she will be harassed and called "infidel". The veiled delegate said she would feel "Terrified… it would be very hard for me to live that way… I admire these women for their inner strength to be able to live this way." The chained delegate, asked to imagine that she was in prison for sharing her faith with a Muslim, said she would feel "Super-traumatised, lost, full of fear about me and my family. I'd be fearing the physical pain and torture."
Michael showed a picture of the wall of a church that had been burnt. Immediately afterwards, the Christians sprayed slogans on the wall: "God is love", "we forgive you". Such expressions of forgiveness have made a huge impact on Egyptian society.
Michael then showed a video of an inspiring song "Heavenly Church" that was broadcast on the Christian satellite television network SAT-7 following one of the church attacks. It included the lines: "The church does not fear death. It's a heavenly church… It's a song of love… What can separate us from the love of Christ?" ?… In this world we have troubles. What can we fear when you are with us?… The church prays, forgives and always loves."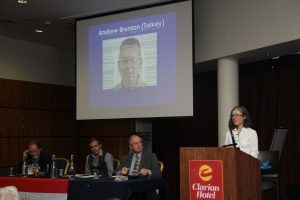 In the afternoon session, delegates participated in a question and answer session on Egypt with Michael and Nada (an Egyptian Christian woman living in Ireland) and also heard updates about Christian prisoners in other countries: Andrew Brunson (Turkey), Ebrahim Firouzi (Iran) and Zhang Shaojie (China). Each update was followed by focused prayer for the prisoner. The conference included times of praise and prayer and an update on the work of Church in Chains.
Share this