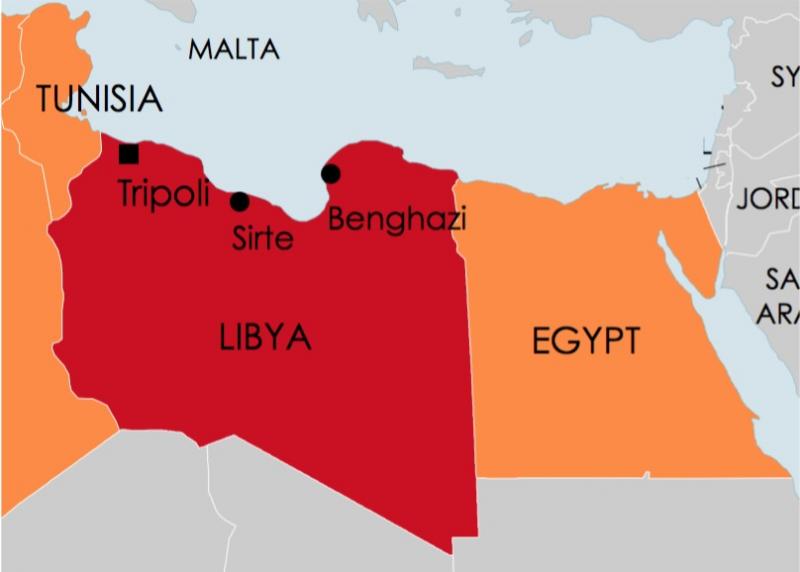 In the latest of a series of kidnappings and killings targeting Egyptian Christians in Libya, suspected Islamic extremists abducted 13 Christians on Saturday 3 January.
A group of armed men thought to be members of an Islamic militia group burst into a housing complex in the coastal city of Sirte at about 2 am and abducted 13 Coptic construction workers. The men were closely related and came from Samalout in Minya Governorate, Egypt. Local residents said that masked gunmen separated the Christians from Muslims, handcuffed them and took them away in cars.
Since the 2011 uprising and civil war, Sirte has become a lawless area under the control of Islamist militants who oppose the government. For more information on Libya, see the Libya Country Profile.
Mina Thabet, a noted Egyptian human rights activist and researcher at the Egyptian Commission for Rights and Freedoms, said that religious motives were clearly evident: "It is obvious they are being targeted for their faith. Why are all the kidnappers asking them what their religion is before they kidnap them?"
He said that the identity of the kidnappers and the killers is not known, but the group most suspected is Ansar Al-Sharia, an Al Qaeda-affiliated group. Libyan Minister of Interior Amer Al-Sanky stated in Libyan media that he believes Ansar Al-Sharia is responsible for this and other recent kidnappings and killings. No one has claimed responsibility for any of the incidents, and the location of the victims, or whether they are still alive, remains unknown. The kidnappers have not made ransom demands.
On Monday 5 January a tribal leader in Sirte, Moftah Marzouk, announced the release of the 13 Egyptians, insisting that they had not been kidnapped but had been detained by traffickers over a money-related dispute. However, on 7 January Foreign Ministry spokesman Badr Abdelatty denied this, saying, "I have no confirmed information about their situation".
The Egyptian foreign ministry has announced that it is in extensive communication with the Libyan government and local authorities in Sirte following the kidnapping. On 5 January, a "crisis cell" was formed by order of President Abdel Fattah Al-Sisi to "secure the lives of Egyptians kidnapped in Libya" and work on their release. The ministry has repeatedly issued warnings to Egyptians about travelling to Libya, and has called on Egyptians currently in Libya to find refuge in safe areas and stay clear of militia strongholds.
Reaction in Samalout
A relative of the missing men named Naseem, who lives in Samalout and did not want to be further identified, said the family and Christian community in Samalout are crushed: "The feeling of depression and worry and sadness is indescribable. But if it's God's will for them to be martyrs for the name of Christ, like the apostles, and a witness to the kidnappers, we pray God will provide grace, peace and acceptance of His will."
Naseem said that the men had been in Sirte for between six months and two years, and that they had all left Egypt for the promise of better opportunities in Libya: "The economic situation here is very bad. We all just have high school diplomas. But there are no jobs available, and we all have responsibilities, families to take care of. Some wanted to save up to get married, and Libya had its doors open with job opportunities, and that's why they decided to go. We hold our prayers up to God, because he is the only one who can help us."
The men had tried to return home several times, but there were no flights from Libya to Egypt and the roads were too dangerous for travel.
Other recent kidnappings and murders
Saturday's kidnapping was the third act of violence against Egyptian Christians in Sirte in less than two weeks. On 30 December, seven Christians were kidnapped while trying to drive home to Egypt on the coast road that passes through Sirte. They were reportedly abducted at a fake checkpoint as they tried to leave the city.
On 23 December, Coptic doctor Magdy Sobhy Tawfiq and his pharmacist wife Sahar Talaat Rizq were shot to death at their home in Sirte, when a group of masked, armed men broke in. Their daughter Katrine Magdy Sobhy (14) was kidnapped, and her body was found in the desert west of the city two days later; she had been shot three times. Two younger daughters, Carla (10) and Carol (9), were left behind. No money or valuables were taken.
A funeral service for the family was held in Tanat, Egypt, on 30 December. The family had wanted to leave Libya because of the increasing danger, but they were unable to as Magdy's employer withheld his passport. Local Islamists had threatened Katrine with demands that she wear a veil.
In an earlier incident, on 25 August, four Christians from Egypt were kidnapped while driving home. They have not been seen or heard from since.
Names of the kidnapped men
The names of those kidnapped on 3 January are Maged Soliman Shehata, Abanoub Ayad Attyia, Yousef Shoukry Younan, Hani Abd Al-Messeih Saleeb, Kerolos Boushra Fawzy, Milad Makeen Zaky, Makram Yousef Tawadrous, Samuel Astafanous Kamel, Bishoy Ashtafouns Kamel, Mina Fayez Aziz, Malak Ibrahim Taniot, Gerges Milad Taniot and Bishoy Adel.
The names of those kidnapped on 30 December are Samuel Alahm Welson, Ezat Boushra Naseef, Louka Nagaty, Essam Badar Sameer, Malak Farag Abraam, Sameh Salah Farouk and Gaber Mouneer Adly.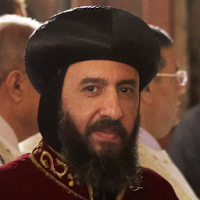 Bishop voices concern about attacks
The General Bishop of the Coptic Orthodox Church in the United Kingdom, His Grace Bishop Angaelos, has issued a statement about the attacks:
"It is deeply concerning to witness the unprovoked, targeted and escalating attacks on Egyptian Coptic Christians in Libya, particularly but not exclusively in Sirte. In recent years Coptic Christians in Libya have endured horrific acts of brutality that include the bombing of churches, abductions, torture, and execution style murders. In recent weeks alone we have seen the murder of a Coptic Christian couple and their daughter in Sirte, and the kidnapping of thirteen Coptic men in the same area. Since December 2014 to date there have been reports of at least twenty abductions of Coptic Christians in Libya and these numbers continue to escalate.
"In personal conversation with His Holiness Pope Tawadros II, Pope of Alexandria and Patriarch of the See of St Mark, as well as representatives from the Diocese of Boheira and Pentapolis, we are aware that the Egyptian government is liaising with Libyan authorities and working to provide safe passage for Coptic Christians returning from Libya, an initiative welcomed at this time.
"Out of serious concern and in light of these circumstances a meeting is currently being sought with the Libyan Ambassador to Britain for further discussion of these constantly evolving events.
"At a time when Coptic and other Christian families are preparing to celebrate the Feast of the Nativity, we pray for those who are literally concerned for their lives in Libya as well as for countless other Christians and minority groups across the Middle East who are victims of war, violence, and unrest."
(All Party Parliamentary Group on International Freedom of Religion or Belief, Al-Wasat, BBC, Irish Times, Middle East North Africa Financial Network/Daily News Egypt, Morning Star News)
Share this