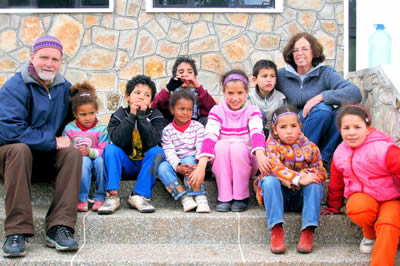 On 7 May the Administrative Court of Rabat delivered a verbal ruling in favour of the Moroccan government, which had deported Village of Hope staff members and their birth children in March 2010 as part of a purge of Christians.
Expatriate Christians who ran Village of Hope orphanage until they were deported on charges of proselytism have said that they will take their fight to be reunited with the children to the Supreme Court if necessary. Many of the staff members had lived with and raised the orphans as foster parents.
The appellate court stated that Village of Hope has no legal status to file any claims, a ruling that could shatter the group's legal claim to the orphanage, which is now operating under state-appointed leadership, and enable the government to control the assets, valued at more than €760,000. The state's appeal came after an October 2012 oral ruling, released in writing in January, stipulating that the association was a legitimate legal entity with the right to seek legal redress of grievances.
Village of Hope workers said there is still uncertainty about the court ruling. "The problem with news about the court case is that we have no written verdict of the court as yet, and so we do not know exactly what has been decided by the court," said Herman Boonstra, one of the Village of Hope workers. "Whatever the case may be, our lawyers will be ready to take it to Supreme Court level if necessary."
Village of Hope, in the mid-Atlas region of Ain Leuh, 80 kilometres south of Fez, was caring for 33 children at the time of the deportations. Founded ten years earlier, orphanage staff members prided themselves on placing the children in family settings. The 20 expatriate workers were told that they must leave Morocco within three days – a statement from the Moroccan Interior ministry accused them of "proselytising activities aimed at children under the age of ten" but Chris Broadbent, Human Resources Manager for the orphanage, said at the time that they were not missionaries, just "parents", fearing for the children they had to leave behind.
Reaction
One foster parent of the Village of Hope, Colin Dickinson of the United Kingdom, said on 30 May that he thinks the appellate court issued its ruling to avoid embarrassment over a court contradicting the government. "I think the decision was annulled for face-saving," he told Morning Star News. "We will appeal."
Colin Dickinson and others say they are heart-broken over what happened. "We live our daily existence hoping to be allowed to return and care for our children," he said. "We have no closure, and the children and local community friends are always in our thoughts." Some of the Village of Hope deportees have been able to reenter Morocco on tourist visas, but Colin Dickinson receives updates through his embassy about the children he and his wife Fiona Dickinson raised, including two boys aged five and six. "Would you give up if they were your children?" he asked. "We raised them in family groups, so I am fighting to care for my boys again."
Those expelled lost almost everything they had and were forced to start life over again, but always with the expectation they might return to the children in Morocco. "We did not cope well initially with the loss of our children, home, job and belongings," Colin Dickinson said. "We have rebuilt our life in the UK in the expectation that at some point we will return, so life is very fragile here. I miss each one of the children and am honoured that I could play a small part in giving them a hope for the future. I grieve that I cannot walk with my boys and answer them when they ask, 'ÄòWhy?'"
Purge
The deportation of the staff members and their birth children, 39 people in all, was part of a purge in which the government rounded up foreign Christians, interrogated them and expelled them with little or no warning. From March to July 2010, at least 128 expatriate Christians were expelled. None was afforded due process, and only a few were given official deportation papers.
The government accused the deportees of proselytising, which is banned by Article 220 of the Moroccan Penal Code, although Village of Hope had a strict policy against proselytism. In the purge, numerous foreign workers who had left the country, many of them aid workers, were turned back at Morocco's borders when they tried to return. The deportations were accompanied by raids from police looking for Bibles and other Christian literature, and in at least in two cases Moroccan Christians were beaten. Police came to Village of Hope two days prior to the expulsions looking for Bibles and evangelistic literature.
(Compass Direct, Morning Star News, Morocco Board News Service)
Share this