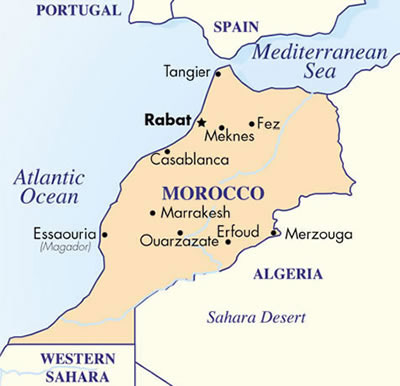 Moroccan authorities expelled eight more foreign Christians from the country in late June, bringing the total of deported Christians since March to 128.
Two foreign women married to Moroccan Christians were included in this third wave of deportations since March, raising concerns that local authorities intend to harass the country's small but growing Protestant community. "They are all in fear," a source said, "because this happened to people who are married."
One of the women, a Lebanese national married to a Moroccan, was diagnosed with cancer last month and is the mother of a 6-year-old girl whom she was forced to leave behind.
Authorities called the foreigners to police stations across Morocco on Friday 25 June and told them they had 48 hours to leave the country on grounds of "threatening public order." Others who were forced to leave the country over that weekend came from France, Egypt, Lebanon, Switzerland, Nigeria and Spain.
A source explained that Moroccan authorities are essentially deporting Christians for "proselytism," which is illegal in Morocco, but in order to justify the deportations they have claimed that the foreigners pose a threat to the state. The current wave of deportations began with the closure of the Village of Hope orphanage in March.
In April nearly 7,000 Muslim religious leaders backed the deportations by signing a document describing the work of Christians within Morocco as "moral rape" and "religious terrorism." The statement from the religious leaders came amid a nationwide mudslinging campaign geared to vilify Christians in Morocco for "proselytism" Рwidely perceived as bribing people to change their faith. In addition, Facebook has been used as a tool in the anti-Christian campaign. Moroccan authorities have failed to provide expelled Christians with documented proof or official charges of their alleged proselytism activities.
An estimated 1,000 Moroccan citizens have left Islam to become Christians. They are not recognized by the government. About 99 percent of Morocco's population of more than 33 million is Muslim. (Compass Direct)
Click here to download a PowerPoint presentation on Morocco

Share this