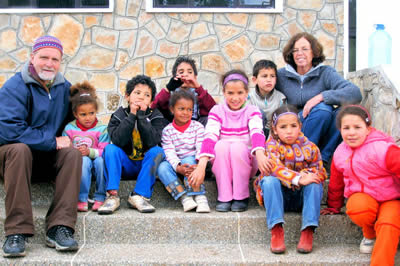 An orphanage called 'ÄòVillage of Hope' in the mid-Atlas region of Ain Leuh in Morocco has been ordered to close by government authorities.
The 20 expatriate workers were told that they must leave Morocco within three days.
'ÄòWe have always been open about our faith to the authorities,' said Chris Broadbent, Human Resources Manager for the orphanage. 'ÄòWatching the children be told by their [foster] parents that they had to leave, that they would maybe never see them again, is the most painful thing I have ever witnessed… This is a shame and a disgrace.' Broadbent said that they are not missionaries, just 'Äòparents' who now fear for the children they have had to leave behind.
A statement from the Moroccan Interior ministry accused the foreign workers of 'Äòproselytising activities aimed at children under the age of 10′. The statement also claimed that the staff in question exploited some families' poverty and violated guardianship procedures. The Village of Hope orphanage has been operating for 10 years, looking after 33 abandoned children, and the closure came without warning.
This is the latest in a series of expulsions of foreigners by the Moroccan government. On 4th February 2010, authorities raided a Christian meeting in a home in Amizmiz, 56 kilometres southeast of Marrakech, arresting 18 people (including children and babies) and deporting a U.S. citizen. As many as 60 officers from the Moroccan security services, including a colonel and two captains, with fifteen vehicles, raided the Bible study meeting. Those arrested were held for 14 hours of interrogation.
The authorities said that the raid had been ordered by the new Moroccan Justice Minister (Mohamed Naciri) and by the General of the Gendarmerie (Housni Benslimane). The Interior Ministry stated that the raid took place "following information on the organisation of a secret meeting to initiate people into Christianity, which would shake Muslims' faith and undermine the Kingdom's religious values." Since then five other foreign Christians have been expelled.
In early December 2009 Moroccan police expelled five foreigners who had been involved in a Christian training seminar in northern Morocco. The raid involved 35 police agents, 12 of whom invaded the building, while the rest surrounded it. There were just 17 Christians at the seminar. They were held in custody overnight, and interrogated for many hours.
Similarly, back in March 2009, five foreign Christian women were expelled. The authorities claimed that they had been attempting to 'Äòproselytise', but they were merely foreign visitors attending a Bible study. The accused women were five of 23 tourists, expatriates and Moroccans arrested in Casablanca and interrogated for participating in a women's Bible study in the apartment of a local Christian leader.
Morocco's constitution provides for freedom to practice one's religion, but Article 220 of the Moroccan Penal Code criminalises any attempt to induce a Muslim to convert to another religion. On 2nd April 2009, a Moroccan government spokesman asserted that freedom of religion does not include freedom to choose one's faith, saying, 'ÄòThe fight against Christian proselytising in accordance with law cannot be considered among human rights abuses, for it is an action aimed at preventing attempts to undermine the country's immutable religious values. The freedom of belief does not mean conversion to another religion." (Compass Direct, Morocco Board News Service)
Share this