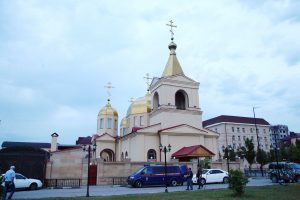 A churchgoer and two police guards were killed when four gunmen stormed a Russian Orthodox church in Chechnya, southwest Russia, on Saturday 19 May. Two more security officers and a parishioner were injured and hospitalised.
Approximately thirty people were attending a service in Archangel Michael Church (pictured) in the centre of the Chechen capital, Grozny, when four gunmen attacked it at 3 pm on Saturday afternoon. The gunmen were carrying axes, knives, hatchets and Molotov cocktails.
Church priest Father Sergiy said churchgoers heard shots outside and chants of "Allahu Akbar", and were able to shut the doors and secure the bolts just as the gunmen tried to break in. The gunmen tried to take some churchgoers hostage, but all four attackers were killed in an exchange of gunfire with the police.
Islamic State claimed responsibility for the attack through its news agency Amaq, stating: "Islamic State fighters executed an attack on 'Michael' Church yesterday in Chechnya's capital, Grozny."
Chechen president Ramzan Kadyrov condemned the attack and vowed to destroy anyone carrying out attacks in the region. He stated: "I once again very seriously declare that you can try to commit any actions aimed at undermining the security of the residents of Grozny and other settlements. But anyone who makes the first step along this path will be immediately destroyed."
Volatile republic
The Chechen Republic (or Chechnya) is a federal republic of Russia located in the volatile North Caucasus region. Following the collapse of the Soviet Union in 1991, Chechnya fought two separatist wars against Russia, during which Christians suffered greatly. Grozny had a significant population of ethnic Russian Christians but most of them fled Chechnya after the wars.
Almost all Chechens are Muslim, and they consider Christianity to be the religion of Russia. The few churches that remain in the region are protected by Mr Kadyrov's forces.
Since the wars, the Russian-backed president has cracked down hard on dissent. He has received international criticism for human rights abuses in Chechnya.
North Caucasus
Throughout the North Caucasus region, an Islamist insurgency has seen militants attack police, moderate Muslims and officials, with the aim of establishing a Sharia state. They have been joined by militants who have returned from fighting alongside Islamic State in Syria and Iraq – in recent years, more than 3,400 Chechens and Dagestanis have travelled to join IS in Syria and Iraq, and an estimated 400 have returned. Unemployment and corruption are factors leading some to embrace radical Islam.
In February 2018, an Islamist gunman shot and killed five women leaving a Russian Orthodox service in the Russian republic of Dagestan. Five others were injured, including at least two police officers.
(New York Times/Reuters/World Watch Monitor)
Share this