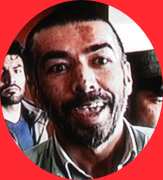 Abdul Rahman, who had faced the death penalty for abandoning Islam, has left Afghanistan for Italy where he has been granted asylum, the Italian foreign ministry said today.
Abdul's departure happened as Afghanistan's parliament demanded that the government prevent him from leaving the country.
Italy has close ties with Afghanistan, whose former king, Mohammed Zaher Shah, was allowed to live with his family in exile in Rome for 30 years. The former royals returned to Kabul after the fall of the Taliban regime in 2001.
Abdul was released from prison on Monday after a court dropped charges of apostasy against him because of a lack of evidence and suspicions he may be mentally ill. Earlier today, Italian Premier Silvio Berlusconi said that Italy would be glad to give asylum to Rahman. "I say that we are very glad to be able to welcome someone who has been so courageous," Berlusconi said, when asked by Associated Press Television about the possibility of asylum for Abdul Rahman. The premier spoke ahead of a Cabinet meeting in which the government approved the granting of asylum to Abdul.
Afghan members of parliament have angrily condemned the release of Abdul, saying he should not be allowed to leave the country. "The release of Abdul Rahman was contrary to the existing laws of Afghanistan," Yunus Qanuni, president of the lower house of parliament, told the assembly during an unscheduled debate on the case. "Abdul Rahman should not flee and should not be allowed to leave Afghanistan … he should be kept under supervision," he said. Several members of parliament said Abdul Rahman should not be allowed to leave but should be executed.(MSNBC, Al-Jazeera)
Share this