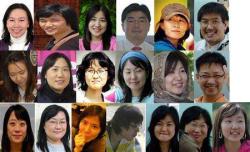 The final group of seven South Korean hostages were released yesterday by the Taliban into the custody of the International Red Cross. They were reported to be in good health.
Their release follows an agreement reached earlier this week between the Taliban and the South Korean government in which the South Korean government agreed to withdraw its troops from Afghanistan by the end of the year and to ban Korean Christians from doing missionary work in Afghanistan and Pakistan.
The final group of hostages were reunited last night with the other tweleve remaining hostages who had been released earlier this week. "They wept. They hugged.They were shocked at the news of the two men who were killed. They didn't know about that" said a diplomat who witnessed the reunion. The hostages had been held in small groups in villages in Ghazni province for the past six weeks.
The hostages are expected to undergo medical checks before flying home later today or tomorrow where their families are eagerly awaiting their arrival.
Back home in South Korea, many issues are now being debated following the end of the crisis. The South Korean government is facing criticism for negotiating with a terrorist group and is denying persistent reports that a ransom was paid to secure the release of the hostages. It has announced that it will seek compensation from the hostages' home church for the costs involved in resolving the crisis.
In response, the pastor of Sammuel Church said that the church will pay all financial costs such as airfare, of transferring the dead bodies and freed hostages, to the government. The church is also facing criticism for ignoring a government directive earlier this year which stated that the Islamic militants were known to be plotting abductions of Koreans as a way to win the release of Taliban prisoners.
The group of twenty three Christians were kidnapped on 19th July while on a short-term aid trip to Afghanistan. The leader of the group, 42 year-old Pastor Bae Hyung Kyu, was shot dead six days later and another male hostage, Shim Sung-min (aged 29) was killed on 31st July. Two female hostages, Kim Ji Na (aged 32) and Kim Kyong Ja (aged 37), were released by the Taliban a fortnight ago. (AFP/ Chosun Ilbo/ Korea Times)
Share this