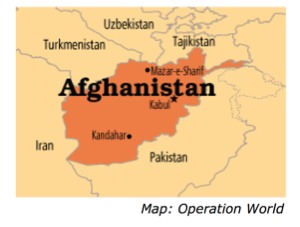 According to the U.S. State Department's International Religious Freedom Report, there are no public church buildings left standing in Afghanistan, and there are no Christian schools left either.
The State Department report says that the courts did not uphold the 99-year lease of the last church building, and the landowner destroyed the building in March 2010. The report states: "Negative societal opinions and suspicion of Christian activities led to targeting of Christian groups and individuals, including Muslim converts to Christianity. The lack of government responsiveness and protection for these groups and individuals contributed to the deterioration of religious freedom." The report adds that most Christians in Afghanistan are afraid to "state their beliefs, or gather openly to worship".
In Spring 2011, two Christians from a Muslim background, Said Musa and Shoib Assadullah were forced to flee the country after being imprisoned because of their Christian faith.
Private chapels and churches for the international community are located at the Italian embassy, on several military bases and with Provincial Reconstruction Teams. (A Provincial Reconstruction Team is a unit introduced by the U.S. government, consisting of military officers, diplomats and reconstruction experts, working to support reconstruction efforts in Afghanistan and Iraq with the aim of empowering local governments to govern more effectively.)
According to a report written in Kabul for the Iranian Christian News Agency Mohabat News, "A large number of the Afghan youth in the cities of Kabul and Herat are eager to hear the Gospel, the Word of God. They all have an open heart for Jesus." This report claims that in recent months 30 people have become Christians in the city of Kandahar, where the Taliban still holds power. The journalist wrote: "We travelled to Kandahar to speak out the Good News and to pray for this city… We were also talking about our Lord Jesus Christ to the children and young people who seemed to have an open mind. I'm so glad and so hopeful that one day this city will become the most influential Christian community in the country."
The Mohabat News report describes how Muslims who leave Islam risk losing their marriages, rejection from their families and villages and loss of jobs, and states: "Legal aid for imprisoned converts away from Islam remains difficult due to the personal objection of Afghan lawyers to defend apostates." More than 99 percent of the Afghan population is Muslim; non-Muslims include Christians, Sikhs, Bahá'is and Hindus. (ASSIST News Service)
Share this