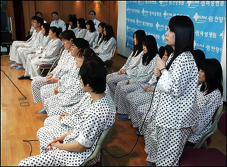 The ordeal of twenty two South Korean Christians being held hostage in Afghanistan continued today as a seventh deadline, set by their Taliban kidnappers, passed this morning. It is now reported that a further deadline has been set for 12.30pm (Irish Time) on Wednesday.
The Taliban have said the hostages (eighteen women and four men) have been divided into small groups and are being held in three different provinces, in an attempt to thwart any rescue mission.
The kidnappers and Afghan negotiators have resumed talks with the kidnappers insisting that the release of Taliban prisoners is the only way to settle the crisis.
The group of twenty three Christians were kidnapped eleven days ago from a bus travelling from Kabul to Kandahar. The leader of the group, 42 year-old Pastor Bae Hyung Kyu, was shot dead last Wednesday and his body has been returned to Seoul in South Korea.
The Christians, all from Sammul Presbyterian Church in Bundang, South Korea were on a short-term aid trip to Afghanistan. The group had planned to spend several days volunteering at a hospital and nursery school in Kandahar, where a single Korean woman teacher and two doctors, a husband and wife, from their church also were residing permanently. "The people in that city love them," said a member of the Sammul Church, who confirmed that the three Koreans in Kandahar had not been targeted in the kidnapping incident. "In Kandahar, they treat up to 150 patients a day."
Korean media as well as some members of the international community in Kabul have criticised the group for being na√Øve and entering the country ill-prepared. But a church member commented,"They were well prepared for the trip. In a country where there is war, when things get hard, everyone leaves. If we leave the country, who will stay to help the people? "Despite this incident, we do not wish bad things upon either Afghanistan or Muslim countries… Because they don't know about Jesus Christ, we have to share the love of Jesus Christ with them." (Compass Direct/AFP/RTE)
Share this