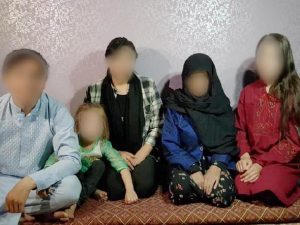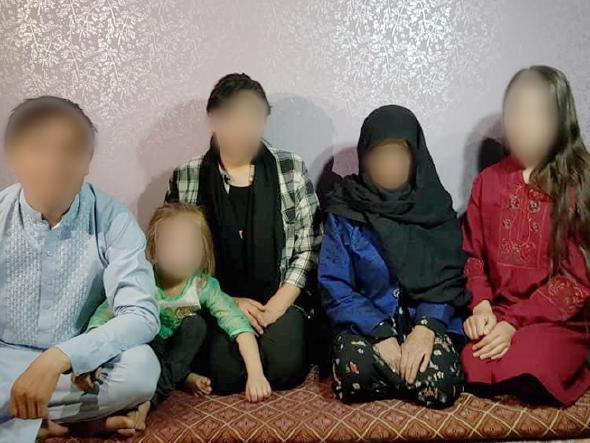 The vast majority of the estimated 5,000 to 12,000 Christians in Afghanistan's underground church are converts from Islam or children of converts and are considered, under Sharia law, to have committed apostasy, which puts them in deadly danger from the Taliban. (The photo shows a Christian family displaced within Afghanistan, faces blurred for security.)
In our previous article, What does the Taliban takeover mean for Christians?, Church in Chains reported that some Christians had received death threats and that the Taliban had examined people's phones for downloaded Bibles. One underground church leader reported, "Some known Christians are already receiving threatening phone calls. In these phone calls, unknown people say, 'We are coming for you'." Another leader said the Taliban has a hit list of known Christians to pursue and kill.
A week later, we take a look at what some Christian organisations working in Afghanistan are reporting on the developing situation.
Barnabas Fund: Christians escaping across borders
Barnabas Fund points out that Afghan Christians, as first-generation converts from Islam and their children, "face almost certain death at the hands of the Taliban, who now control virtually the whole country, and will kill them as apostates". The organisation reports that many Christians are crossing borders overland into neighbouring countries, as flying out of Kabul is no longer possible .
Barnabas Fund is currently assisting around four hundred Afghan Christians who have recently escaped into a neighbouring country, and is preparing to help 1,200 more to escape, while also caring for four hundred Christians still in Afghanistan.
Operation Mobilisation: some living in peace, others in fear
Christian mission organisation Operation Mobilisation (OM) runs a media-ministry in Afghanistan, Pamir Ministries, which does not currently have staff in Afghanistan but is in touch with hundreds of Afghans throughout the country.
Perhaps surprisingly, OM reports: "Many tell us that it is finally peaceful in their area. One rural man, with whom we are in regular contact, says, 'This is the first time after so long that we slept in peace at night. We do not know about tomorrow, but today it is good to have peace.'" According to this report, Afghans are so tired of war, which has gone on for 45 years, that many are willing to live under heavier restrictions so long as they do not need to fear warfare or criminal activity.
OM also states that a partner ministry has told them many callers talk about the peaceful situation in their locations, saying that while they are aware of events elsewhere in the country, for them life is going on almost as normal. At the same time, others are reportedly extremely troubled by the Taliban takeover and fear for their lives as Christians, wondering if someone will denounce them. They are looking for ways out of the country.
OM is concerned about some hyper-sensational stories circulating, notably about executions, house searches and girls being taken from their homes. It makes the following observations:
Executions: "As of 24 August 2021, we have talked with Afghans from many different parts of Afghanistan and no one has communicated with us about any executions in these days."
House Searches: "It appears that officials have searched for specific people and also for weapons to disarm people. We hear that some have escaped in time and are in hiding. There is also a fear that neighbours may report on each other."
Girls being taken from their homes: "Our team members have seen a letter in the Dari language that stated girls 15 years and over and widows 45 years and younger should register at the local cultural centres. It was widely circulated in social media, but the Taliban have denied this letter. Others said the letter was actually distributed in some districts." OM also reports, "A few families tell us that their teenage girls are returning to school this week after the new regime offered to pay teacher salaries. Meanwhile, many Afghans are still very afraid."
Sat-7 UK: an Afghan pastor's prayer for his country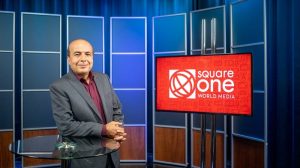 Sat-7 UK has published a prayer for Afghanistan prepared by Afghan church leader Shoaib Ebadi (pictured), who was born in Kabul but lives in Canada, where he works as Executive Director of Square One World Media, a ministry that produces Christian media in various languages for streaming around the world. Click here to pray Pastor Ebadi's prayer for Afghanistan.
Pastor Ebadi became a Christian in 1999 as a refugee in Pakistan, and the following year he emigrated to Canada. Since 2010 he has been recording programming in Dari, the Persian dialect spoken in Afghanistan.
In an interview with the Winnipeg Free Press, he expressed concern for his family in Afghanistan, where his sister is a secondary school principal. "They are in a life-threatening situation," he said. "My sister is frightened. She cries a lot when we talk."
Pastor Ebadi said he had not heard first-hand reports of Christians being persecuted by the Taliban, but that he had heard that Christians are hiding Bibles and deleting Christian materials from their phones. Commenting on unconfirmed reports of Christians being killed, he said, "We need to avoid exaggeration and extremes. That doesn't help the situation."
Pastor Ebadi was also interviewed recently by Christianity Today, which asked him, "How would you describe the current psychological state of the Afghan church?" He replied, "It is very difficult now. Fear is dominant and believers think they will be the next target. Many are trying to leave, and some are getting help from international organisations. But it won't be possible to get 8,000 people out of Afghanistan. Some are going underground, and we hear reports that some are heading toward the mountains – with the winter coming. But by God's grace, they will be able to continue to live under the Taliban as salt and light."
Christianity Today asked Pastor Ebadi about the recent growth and ethnic makeup of the Afghan church. He explained that in 2014, NATO ended its official operations in Afghanistan, and most foreign Christian workers left. Some Christian gatherings disappeared, but some Afghan Christians took on church leadership and the gospel began to spread, especially among the Hazara minority (about 10% of the population). Pastor Ebadi reckons that about half of Afghan Christians are ethnic Hazara, followed by 30 percent Tajik and 20 percent Pashtun.
The Hazara people are Shiites, and Pastor Ebadi told Christianity Today, "The Shiite form of Islam also has a concept of sacrifice, of someone giving his life for another. So when they are introduced to the sacrifice of Jesus, the lights can go on."
What about Islamic State in Afghanistan?
Adding to the terror and instability is the presence in Afghanistan of the regional chapter of Islamic State known as Islamic State in the Khorasan or ISIS-K. It claimed responsibility for the deadly suicide bombing outside Kabul airport on 26 August in which scores of Afghans and 13 US soldiers were killed during the evacuation operation.
Islamic State (IS) has been responsible for the deaths of many Christians in other countries, notably Iraq and Nigeria (where it operates under the name Islamic State West Africa Province or ISWAP), and it is likely that ISIS-K will pose a similar threat to Afghan Christians. IS and the Taliban are both Sunni extremist groups, but the former has an even more brutal interpretation of Sharia law and is the Taliban's sworn enemy. IS has stated that it will continue to fight in Afghanistan and has described the Taliban as apostates.
ISIS-K was founded in 2015 by militants from Pakistan and disaffected Taliban members and quickly established a reputation for extreme brutality. The Khorasan region historically covers parts of Iran, Afghanistan and Pakistan, but ISIS-K currently operates mainly in the north and east of Afghanistan, near Kabul.
Read more about the situation facing Afghan Christians in Church in Chains' Afghanistan Country Profile.
(Barnabas Fund, Christianity Today, International Christian Concern, Operation Mobilisation, RTÉ, Sat-7 UK, Winnipeg Free Press. Main image: Barnabas Fund)
Share this