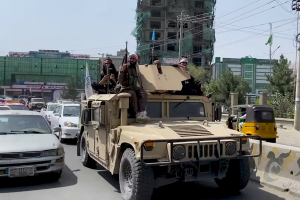 The fall of Kabul, the capital of Afghanistan, to Taliban forces on 15 August came as a great shock to the international community. The Taliban had begun its major offensive against the Afghan government in May and had previously captured most of the provincial capitals of Afghanistan. The takeover of Kabul, without a battle came hours after President Ashraf Ghani fled the country. The Taliban has renamed the country The Islamic Emirate of Afghanistan and changed its flag.
The immediate focus of the world's media has been on the chaotic scenes at Kabul Airport as thousands of foreign nationals including diplomats and Afghan citizens who worked at embassies sought to flee ahead of the 31 August deadline set by the US for the withdrawal of its troops. Many other Afghan citizens deemed "vulnerable" (including those who worked with the ousted government, the US and UK military forces and members of particular social, religious or ethnic groups) are also desperate to escape from the Taliban. The US President, Joe Biden, has stated that the evacuation of the US military must be completed by 31 August and the Taliban has ruled out any extension. On 24 August, a Taliban spokesman said Afghans should not go to Kabul airport or try to leave the country and also said that female workers should stay at home for now, for their safety.
Is there a church in Afghanistan?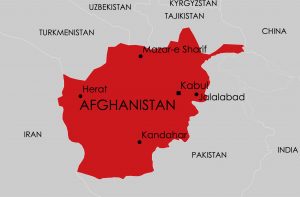 For many years, Afghanistan has been known as one of the most oppressive countries in the world for Christians and the persecution of Christians was classified as severe (the highest classification) in the Church in Chains Global Guide. There are no church buildings in the entire country – the last one was destroyed in 2010. Christians meet in extreme secrecy, changing the times and locations of their meetings to avoid detection. The vast majority of Afghan Christians are converts from Islam or children of converts and are seen as traitors, bringing shame on the family. They are considered to have committed apostasy and may face attack from family members or the local community.
Despite the risks, the church has grown rapidly in recent years, with increasing numbers of Afghan Christians meeting in small groups. Estimates of the number of Afghan Christians range from 5,000 to 12,000. Most church growth in recent years has been among the Shia Hazara ethnic minority.
What will happen to Christians?
In recent days, Christian broadcaster SAT-7 (a Church in Chains partner organisation) has heard stories of members of the Hazara community being stopped by the Taliban to see if they have any evidence of being Christians on their phones [such as a downloaded Bible]. In one account a Hazara Christian was shot on the spot. "Our friends, our brothers and sisters in Christ in Afghanistan, are telling us how afraid they are – that their lives will be snuffed out. It is a very dire situation," said Mikael Tunér, a SAT-7 broadcast partner. "Many have come to Christ from all ethnicities across Afghanistan. Please pray over the coming weeks that Jesus, Prince of Peace, will rule in many hearts."
An Afghan viewer of SAT-7 who became a Christian two years ago said, "For quite a while I was inviting my relatives and close people around me to get to know Christ, but sadly in the past two to three days, my family and I have received death threats. In this emergency situation, I have no other way but to escape from the country. Please be our voice, please help us to be heard so that we can flee from this hell as soon as possible."
"We are telling people to stay in their houses because going out now is too dangerous," a Christian leader in Afghanistan, whose name is withheld for security reasons, told International Christian Concern. While a general amnesty has been announced by the Taliban, this leader fears Christians will still be targeted by Taliban fighters patrolling Kabul and other cities. "Some known Christians are already receiving threatening phone calls," the Christian leader said. "In these phone calls, unknown people say, 'We are coming for you'."
According to this Christian leader, life is already very difficult for Christians in districts taken over by the Taliban since May. When the Taliban takes control of a village, it reportedly requires all households to go to the local mosque to pray five times a day. Those who do not attend must provide a good reason for missing a prayer, potentially outing any Christian converts.
In some northern parts of Afghanistan, the Taliban is already enforcing its strict interpretation of Sharia law. Men are required to grow beards and women cannot leave home without a male escort.
Another underground Christian leader said, "What we are witnessing right now is the decimation of the country and people of Afghanistan. We are watching twenty years of work and the strengthening of a nation being destroyed in a single day.
"The Taliban has a hit list of known Christians they are targeting to pursue and kill. The US Embassy is defunct and there is no longer a safe place for believers to take refuge. All borders to neighbouring countries are closed… people are fleeing into the mountains… they are fully reliant on God, who is the only One who can and will protect them."
Some US-based Christian organisations that have been working in Afghanistan are understood to be planning (in association with the US military) to evacuate some Afghan Christians. However, getting to Kabul Airport and publicly identifying themselves there as Christian would pose huge risks for those who  are considering trying to leave.
Praying for Afghanistan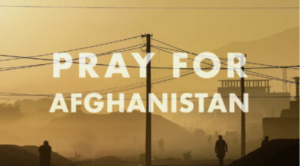 SAT-7 has shared the following prayer points:
Pray for all those impacted by the violence and those seeking a means of escaping the country.
Pray that the rights of Afghanistan's women, children, and men will not be ignored and will be upheld.
Pray against violence and oppression.
Pray for Christians and ethnic minorities who fear being singled out and targeted.
Pray for hope, mercy, justice, and healing in Afghanistan.
(Al Jazeera, All Arab News, Barnabas Fund, BBC, Church in Chains Country Profile, Frontiers Alliance International, International Christian Concern, Release International, SAT-7)
Share this