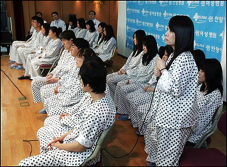 The 21 surviving South Korean Christian volunteers who were held hostage by the Taliban in Afghanistan for nearly six weeks have recalled how they suffered at the hands of their captors. Speaking at a press conference in Anyang after leaving hospital, Yu Jung-hwa said how she and her fellow hostages felt terrified when her captors lined them up and threatened to kill them if they did not convert to Islam.
'ÄúAll 23 of us leaned against a wall and armed Taliban aimed their guns at us, and a pit was before me…they said they will save us if we believe in Islam. I almost fainted at the time and I still cannot look at cameras.'Äù
The former hostages said they feared for their lives at times when their captors turned violent. "We were beaten with a tree branch or kicked around. Some kidnappers threatened us with death at gunpoint to force us to follow them in chanting their Islamic prayer for conversion … "I was beaten many times. They pointed a rifle and bayonet at me and tried to force me to convert."" said Jae Chang-hee. He said the group "lived like slaves. We had to level the ground for motorbikes, and get water and make a fire".
During the question-and-answer session on Wednesday, the freed hostages told reporters that they were kept together for the first three days of their captivity but were later separated into six different groups, with each group consisting of two to four people. Yu Kyeong-Sik, 55, said they were moved around continuously on motorbikes or on foot.
A few of the hostages, however, said they were treated relatively well. "Some Taliban were friendly, as they asked what our names were and gave us Afghan names. They played with mobile phones and later allowed me to make a telephone call to South Korea so I talked with my husband," said Suh Myung-hwa, 29, whose younger brother, Kyung-seok, 27, was also among the hostages. She was also able to exchange notes with her brother.
The press conference was attended by doctors who have been treating the returned hostages who have now been allowed to leave hospital and retutrn to their families. While the conference was covered by the international media, it was not prominently covered by Korean newspapers who have been highly critical of the Christian aid workers and their church since their return.
The group of twenty three Christians were kidnapped on 19th July while on a short-term aid trip to Afghanistan. The leader of the group, 42 year-old Pastor Bae Hyung Kyu, was shot dead six days later and another male hostage, Shim Sung-min (aged 29) was killed on 31st July. Two female hostages, Kim Ji Na (aged 32) and Kim Kyong Ja (aged 37), were released by the Taliban in mid-August and the the remainder at the end of August. (Sources: BBC/ Al-Jazeera/Christian Today)
Share this