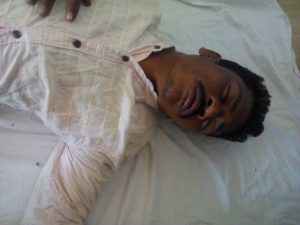 30-year-old Kama Sodi (pictured) and his family are still being threatened by fanatics and socially and economically ostracised in the village of Kodalmetla, Odisha state, two months after they were attacked twice by a group of animists in March.
On the evening of 11 March the Sodi family home was surrounded by an animist mob of around sixty villagers as Kama, his wife Bhimeshwari and their young children (aged three and six) were praying before bed. "I was able to protect my two small children from their beatings, but my husband was in their clutches. They were beating him very brutally," 26-year-old Bhimeshwari said. The assailants declared that they would allow Kama to live if he renounced his faith in Christ. He refused.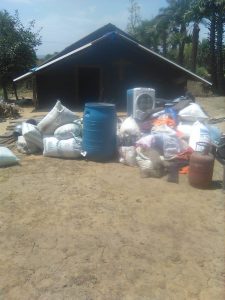 The following morning the family home was surrounded by the same attackers, who beat Kama with bamboo sticks until he passed out on the ground. The attackers also plundered their home and took away bags of grains and household items, including the television, utensils and furniture which they dumped in a nearby field. They told the Sodi family to leave the village.
When Christian leaders arrived at the scene of the attack, they found Kama unconscious and his children and wife weeping. Pastors from Erbanpally's New Bethesda Jesus Christ Tribal Ministries arranged for Kama to be taken to Malkangiri Government Hospital, where he was diagnosed with severe internal and external injuries. Doctors stated they were unsure how long he would remain in a coma.
Kama regained consciousness a day and half later, but had to remain in hospital for a week. Doctors told him he had blood clots in his brain that would need extra care at home and should not return to work until he fully recovered. Bhimeshwari hoped to get extra work to sustain the family while her husband recovered, but soon after he was discharged from hospital on 22 March, the government announced the nationwide lockdown due to the Covid-19 pandemic.
When the pastor of the church Kama attends, Kosha Muchaki, was informed about the attack, he reported the incident at Malkangiri police station. Subsequently the police went to Kodalmetla village and told the villagers responsible for the attack to stop harassing the Christians and return the looted items.
Pastor Muchaki said: "After all these weeks, Kama is still in terrible pain. Most of the items that were taken out of the house were brought back damaged or destroyed, but he is very sure about his Christian faith."
The Sodi family remains at their home in Bhimeshwari's ancestral village, impoverished due to the fact the no one is offering them work and shunned by most of the villagers.
"My husband and I close the doors and pray quietly; we are not afraid of tomorrow," Bhimeshwari said. "We are socially banished from this village and have been treated as untouchables. They do not allow us to even walk on the road, and they believe that if we walk on it, it would be defiled. But our Lord is with us. We are seeking comfort in spending time with Lord Jesus."
Elderly couple attacked in Bihar state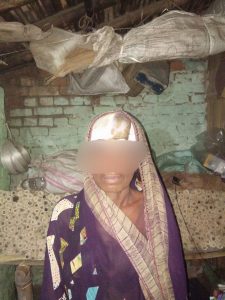 On 3 May an elderly couple was brutally attacked in their home by local religious extremists in a village in Bihar state.
Their neighbour, a witch doctor, had been unhappy for quite some time with the fact that Ram and Maya (pictured) were praying to God next door to her and had been inciting other villagers to harass her Christian neighbours and pick fights with them.
At 10.30pm the neighbour's son along with some extremists forced their way into Ram and Maya's home and beat them for their faith in Christ. Maya was left unconscious with head wounds and Ram was bruised and battered. Although other neighbours came out of their homes to see what was happening, no one helped or defended Ram and Maya. Following the attack the couple had to be treated in hospital; Maya required ten stitches to her head.
Their daughter and son-in-law came to visit them in hospital the following day when they learned about the attack. The head of the village was summoned by their son-in-law and told him that the assailants had made a complaint against the Christian couple at the local police station while they were being treated in hospital. The head of the village said that he had asked the attackers to withdraw the complaint for the sake of peace and asked the family to settle their differences.
The couple's son Nandu lives and works as a pastor in a village about 200 kilometres from his parents. He made contact with Church in Chains' partner Persecution Relief and narrated the whole incident. As Ram and Maya live in a red zone, which is currently sealed off to reduce the spread of Covid-19, Nandu has not yet been able to visit them.
Since 2016 Persecution Relief has recorded 1961 hate crimes against Christians in India. In the first quarter of 2020, they recorded 187.
 (Morning Star News / Persecution Relief)
Share this