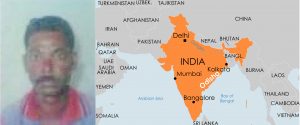 Three attackers dragged father-of-five Anant Ram Gand (40) out of his house, shot him in the head, beheaded him and dumped his body in the road in the village of Raigarh Tehsil, Nabarangapur district, Odisha state on 11 February.
Anant was an agricultural worker who converted to Christianity nine months ago, followed by his whole family, and was baptised two months ago in an evangelical church. His conversion angered Hindu extremist villagers, who taunted him and his wife Sukbati (38) about their faith, banned them from collecting water from the public well and forced them to leave the village. They had to move a kilometre away and dig their own bore well, and Anant was harassed and beaten twice in 2018.
The organisation Persecution Relief also reported that tensions were brewing locally over traditional tribal customs in which Anant refused to take part following his conversion.
Locals reported that the Hindu extremists used Naxals (Indian Maoist guerrillas) to carry out the murder. Anant was a former Naxal sympathiser and Persecution Relief reported, "It is alleged that the extremists spread false stories to the Naxals about Brother Anant Ram being a police informer, in order to eliminate him."
Shibu Thomas, founder of Persecution Relief, said that in the past Anant had expressed sympathy for the Maoist guerrillas and stated, "He was never a part of the fighters, but the Hindus made the Naxals believe that the Christian would reveal their secrets to the police."
Local pastor Chanan Jani said that Anant had been more than a sympathiser, stating, "In the past, before he became a Christian, he was a Naxal and was caught by the police. That was the turning point where he surrendered to the police and renounced his life as a Naxal. The Naxals thought he might share their secrets with the police. But Anant did not want enmity with anyone and assured them that he was a follower of Jesus Christ."
Commenting on Anant's strong faith, the pastor said, "His passion and dedication were unbelievable. Most days, he fasted and prayed. The entire family embraced their faith wholeheartedly."
Attack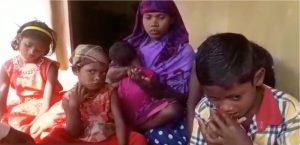 On the day of the murder, Sukbati went to the nearby village with their four daughters, Dhanomati (13), Purnima (11), Hemobai (3) and Kemiti (2), while Anant and their son Purno (6) remained at home. Sukbati and the children are pictured, left, in a video still.
Purno said he woke up to the sound of three men knocking at the door. His father opened the door and the men caught hold of him, tied his hands to a pole behind his back and dragged him away. Before they drove off, they pushed Purno away and threatened to harm him if he followed them. Purno ran to his uncle's house nearby and raised the alarm.
The attackers shot Anant in the head, crushed his skull with a large stone, decapitated him and threw his body onto the road.
Sukbati told Pastor Chanan Jani, "He has been killed for his faith in Jesus Christ. But I am sure I will not forsake Jesus Christ my Saviour and Lord. Please remember us in your prayers so that we stand strong in faith and all our daily needs are met."
Following the murder, Shibu Thomas stated: "As president of the group, I ask the Prime Minister and the Chief Minister of the State to please order a probe. The government should provide compensation to the family and five small children. They should speak clearly against persecution of Christians and to protect freedom of worship. Enough is enough!"
Morning Star News reported that a week before the attack, relatives visited Anant and warned him of dire consequences if he did not leave the Christian faith."If something untoward happens, do not blame us," they warned. On 19 February, Sukbati's brother visited her and threatened that she would meet a similar fate if she did not renounce Christianity.
Naxalism
Naxals or Naxalites are far-left radical Indian communist revolutionaries who follow Mao Tse Tung's political ideology. The name derives from the village of Naxalbari in West Bengal, where the Naxalite peasant revolt took place in 1967. From West Bengal, the movement has spread through rural areas of southern and eastern India.
(Asia News/Morning star News/Persecution Relief)
Share this