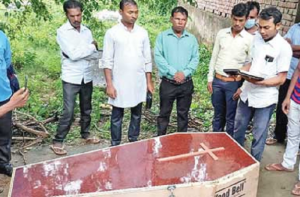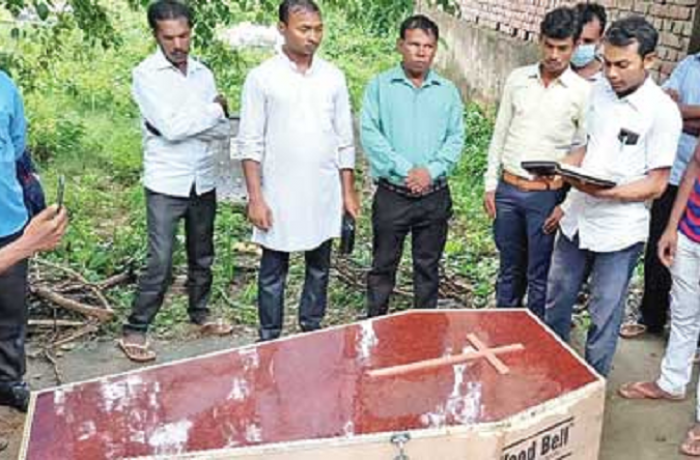 A Christian teenager died in hospital in Bihar state on 26 September, 46 days after suspected Hindu extremists threw acid over him.
Nitish Kumar (14) came from a Dalit family that had converted from Hinduism to Christianity about two years ago and had been threatened repeatedly by Hindu extremists. He was going to buy vegetables at the village market in Kamtanagar in Bihar's Gaya District early on 11 August when three suspected Hindu extremists rode up behind him on a motorbike and threw acid over him.
At first Nitish thought they had thrown water on him. "But soon my skin began to burn," he told Morning Star News after the attack. "The burning sensation increased with every passing second. I dropped the basket and ran towards my house screaming and howling."
His elder brother Sanjeet (17) said, "My brother had gone to buy vegetables from the local market around 6.30 am on August 11. He had hardly gone 750 metres when three men on a motorcycle threw acid on him. He started burning and rushed back screaming."
Nitish was rushed to a local medical clinic for first aid and four days later was transferred by ambulance to the Apollo Burns Hospital about 90 km away in Patna, Bihar's state capital.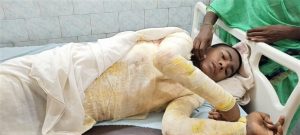 Dr Kamod Narayan Tiwary, the owner of the hospital, told Telegraph India, "When I saw the boy, seventy per cent of his body had burns. Both hands, his back, parts of the chest, both thighs and a leg had severe burns that seemed to have been caused by acid or a similar chemical. Around 18 per cent of his burns were third-degree burns, reaching deep into his muscles. He was critical. He used to tell me how some people had thrown acid on him."
A local pastor told International Christian Concern, "The doctors have tried every possible way to revive Nitish. Every alternate day, the doctors gave one unit of blood and had regular dressing changed on almost the entire body. We hoped that he would bounce back to life, but we know God has His way and time."
Nitish died just after midnight on 26 September, and his funeral took place that afternoon. He leaves his mother, who was reportedly taken ill at the funeral, his father (a rickshaw driver), three brothers and two sisters.
His brother Sanjeet told Morning Star News that they had all put their faith in Christ after his mother was delivered from evil spirits following healing prayer. Family members who suffered frequent illness also began to enjoy good health after Christians prayed for them. "Since we started to believe in Christ two years ago, the evil spirits left my mother, and health was restored in our family," he said. "We are still poor, but there is happiness in our lives after we started following Jesus."
Extremist threats
Nitish and Sanjeet were active in the local church, ran prayer gatherings in their home each evening (attended by the family and around twenty other people) and also went to lead worship services in other places. Family members said radical Hindu nationalists had demanded that Nitish give up his Christian faith and even threatened to murder him.
Sanjeet said threats against local Christians had become increasingly serious over recent months. He told Morning Star News, "A month before the attack, some extremists spread word in the village that they would expel all the people who follow the Christian faith from the village. We also heard about it, but it did not deter us from our faith. And suddenly this attack took place."
He added that in December Hindu extremists blocked the roads leading to the church the family attends and questioned Christians going to services. "They would question everybody as to why do they go for prayer," he said. "They used to ask us if we had been given money or other allurement to attend the meetings, or were we forced to do so. So all of us clarified that nobody asks us to come to church. We all go to church of our own will, and we go there for the Lord."
Their eldest brother Rajeev also reported that threats to the family had increased recently. "Some local people used to ask us not to attend church or hold prayers at home," he said. "In July, threats were being issued all around that all Christians would be chased away from the area."
A local Christian said the people who had threatened the family "were threatening Christians at many places in Gaya and neighbouring districts. We are afraid to go to the police because our homes, land and businesses are here. I just wish somebody would do something to stop this torture."
Local pastor Deepak Kumar told Morning Star News that Bihar state has seen a sudden rise in cases of persecution against Christians in the last two years. "Every 7-10 days there is an incident in Patna District or Gaya," he said.
Police refuse to help
Police refused to register a case following the attack on Nitish and did not arrest anyone in connection with the incident, claiming that he had thrown acid on himself following a family quarrel.
"We conducted inquiries. It was the result of a family dispute," said the station house officer of the local Mahkar police station. "The victim was sporting long hair and his elder brothers forcibly cut it… he set himself on fire and suffered burns."
Rajeev told Telegraph India, "This is not true. Some people threw acid at him. We wanted to register an FIR [First Information Report] and had gone to the police station, but the police were not helpful."
Dr Kamod Narayan Tiwary said police from Agamkuan police station in Patna were also informed after Nitish died. "The police came and said they did not want to get involved in the case," he said.
Bishop Sarat Chandra Nayak, chairman of the Catholic Bishops' Conference of India's Office for Scheduled Castes and Backward Classes, stated: "From many sources we know that in Bihar and Uttar Pradesh many Dalit Christians are attacked for their faith with murders, rapes, assaults and intimidation. Dalits are at least half of the Christian population and suffer from an increasing level of violence against them and a double discrimination. The authorities must do their duty and protect the most vulnerable."
(Asia News, International Christian Concern, Morning Star News, Religious Liberty Prayer Bulletin, Telegraph India)
Share this