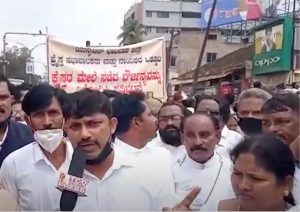 Hundreds of Christians took part in a peaceful rally on 25 October to protest against Karnataka state's proposed anti-conversion law and to call for the release of a pastor arrested on false charges of forced conversion.
Karnataka's Chief Minister Basavaraj Bommai announced on 28 September that the state government intends to introduce a new anti-conversion law. India's anti-conversion laws forbid conversion by "force, fraud or allurement" but Hindu extremists use them as justification for persecuting Christians, falsely accusing them of forcing Hindus to convert. Like the eight Indian states where anti-conversion laws are already in force, Karnataka's state government is led by Prime Minister Narendra Modi's Hindu nationalist Bharatiya Janata Party (BJP).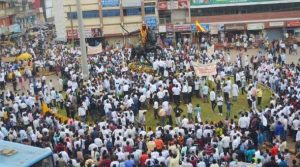 The protest was held in the city of Hubballi, where Christians holding placards and shouting slogans gathered at St Peter's Church, Gadag Road. Led by pastors, they marched three kilometres to the city centre, where they demonstrated at a well-known roundabout before proceeding to government buildings to submit a memorandum to Karnataka's Chief Minister to local officials, calling for protection for churches and the release of Pastor Somu Alwadi.
Pastor Som Shaker told International Christian Concern, "There are two straightforward demands in the memorandum*. The government should ensure the safety of churches and Christians and that Pastor Somu Alwadi should be released."
Addressing the gathering, the president of the Dharwad District Christian Pastors and Leaders' Alliance for Peace March, Sunil Mahade, said that accusations were being made about forceful conversions by Christians without any evidence or proof. "We are Indians and we lead our lives according to the Constitution," he said. "Don't make baseless allegations against us and victimise us."
Hindu extremists invade church service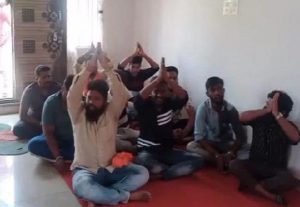 Pastor Somu Alwadi leads an Assemblies of God church in Hubballi named Bairidevarkoppa Church. Hindu extremists forced their way in at 11 am on Sunday 17 October and began singing bhajans (Hindu devotionals) as a protest against alleged forced conversions. Pastor Alwadi and some other Christians in the congregation suffered minor injuries when they tried to stop the disturbance.
Local BJP member of the legislative assembly Arvind Bellad organised a road block to demand Pastor Alwadi's arrest, and when police arrived at the church the extremists pressurised them into arresting the pastor and charging him with illegal conversion activities. He was released after questioning.
High Court rejects petition against state investigation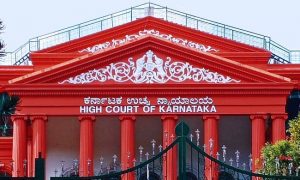 Following Karnataka state's order on 13 October that a survey of all churches be carried out, a petition was filed by People's Union for Civil Liberties challenging the state order. On 25 October, the Karnataka High Court heard the petition but dismissed it.
Senior Advocate Professor Ravivarma Kumar, appearing for the petitioner, submitted: "In my opinion this is violation of my Right to Freedom of religion guaranteed under the Constitution of India". He also asked  "why only Christians are chosen why are they picked and chosen for this hostile discrimination."
The court observed, "It is not Christians but it is the churches for which the data has been sought". Prof Kumar responded, "Churches are not run by Hindus or Muslims, they are run only by Christians. This is a discrimination on the basis of religion against Christians".
The court refused to put a stay on the state-ordered investigation but did direct the state government to file its statement of objections to the petition within three weeks.
(Barnabas Fund, International Christian Concern, Live Law, The Hindu, UCA News)
Share this