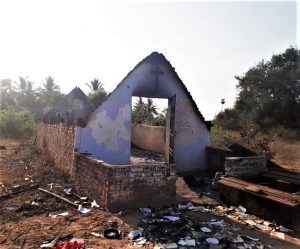 Hindu extremists continue to attack rural churches across India, with recent cases documented in the states of Telangana, Bihar, Tamil Nadu and Maharashtra and in Puducherry union territory.
In Telangana in south-central India, a gang of extremists burst into a home group in Bhadra Sri Kothagudem district on 24 July. Shouting threats and abuse, they accused the Christians of converting people and slapped and beat four of them with shoes. The pastor lodged a complaint with local police, who summoned both parties and negotiated a "compromise". Two days later, however, while the host family was praying, the extremists returned with a mob of about twenty people who brutally beat the Christians. The police again summoned both parties and negotiated a "compromise".
In Bihar state in northeast India, extremists disrupted a Sunday worship service in Saharsa district on 22 July, shouting abuse and beating the congregation. Bible college student Ravin Kumar was repeatedly thrown against a wall and beaten so badly that he was hospitalised in a critical condition.
The mob was accompanied by police officers who watched the attack and then took the pastor, his pregnant wife and daughter and 25 other Christians to the police station for interrogation. Police tried to force the Christians to say they had been converted by force or enticement but they stated adamantly that they had experienced miracles and wonders because of knowing Jesus Christ. They were released later that day, apart from the pastor and his family, who were held until the following afternoon.
In the southern state of Tamil Nadu, Kingdom of God Church in Kanchipuram district was torched on 11 June after Christians refused to donate to an annual festival celebrating a Hindu god. Local Hindus had issued threats that the church would be destroyed if any Christian refused to contribute.
Also in Tamil Nadu, Advent Christian Church in Thiruvannamalai district (pictured above) was set on fire on 5 May. Hindu fundamentalists jumped into the compound and torched the coconut-leaf roof – fire caught easily and spread quickly. Church leaders filed a First Information Report at Thiruvannamalai police station but the police took no action and since then the congregation has had to worship in a tent.
Nehemiah Christie, director of legislations and regulations of the Synod of Pentecostal Churches in Tamil Nadu, told Morning Star News that violent trends against Christians are increasing as elections approach. "In every case of arson," he said, "the police conveniently register it as fire accident due to short circuit, and they refuse to register the suspects' names."
In west-central Maharashtra state, Hindu extremists have threatened to close one church every week in the rural Gadchiroli district, where they recently destroyed a church building and vandalised at least 15 Christian homes.
In Puducherry union territory, the Bible Presbyterian Church in Karaikal district was torched on 25 May. Police could not find the culprits, but an investigation is underway and the congregation is rebuilding the premises.
Christian Martyrdom Day
On 22 July, Christians across India held a day of prayer to remember those killed for their faith by Hindu extremists. Christian Martyrdom Day was initiated by Persecution Relief in 2017 in response to the increase in anti-Christian violence, which Christian leaders point out has occurred since the pro-Hindu Bharatiya Janata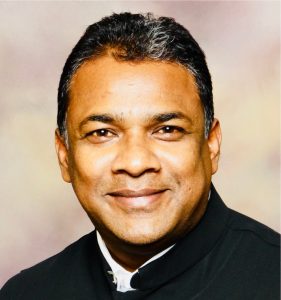 Party swept to power in 2014. Founder Shibu Thomas (pictured) explained, "At least ten Christians have been killed in the past three years amid continuing persecution."
Persecution Relief documents the persecution of Indian Christians and supports them through prayer, aid, political advocacy and legal representation. Shibu Thomas will be the guest speaker at the Church in Chains conference on Saturday 15 September in the Clayton Hotel, Liffey Valley, Dublin.
(Morning Star News/Persecution Relief/World Watch Monitor)
Share this