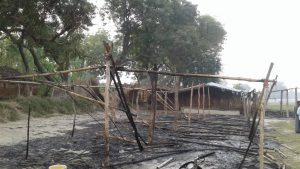 In the early hours of 16 November, extremists set fire to a church building in Ahladpur village, Kaushambi District in Uttar Pradesh. It was so badly burned that only some charred supporting poles and a small section of roof remained.
When the fire began at about 2 am, church members living near the building called Pastor Sone Lal at his home 3 km away to alert him. The pastor, who is also a farmer, rushed to the scene but arrived to find the building destroyed. He reported the incident to Sarai Akil Police Station and a First Information Report has been lodged against unidentified persons.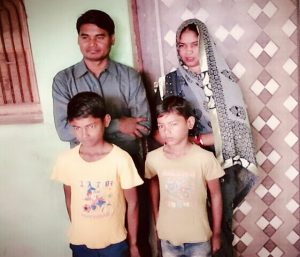 Four years ago, after years of saving, Pastor Sone (pictured, with his family) bought a small plot of land and built a place of worship out of bamboo and coconut fronds to accommodate his 1200-strong congregation. This building was not a permanent structure, and the church now wants to build something permanent.
In the intervening years, the church has suffered several incidents of persecution by extremists who accuse the Christians of converting Hindus.
After the fire, Pastor Sone told Persecution Relief, "This is not the first time the church is being attacked. We were not allowed to gather for worship for over three months because of false allegations and accusations made against us of indulging in conversion activities. Ultimately, I approached the High Court of Allahabad and secured permission to worship again. I feel very sad about what happened. However, I am very eager to return and rebuild the church. This is the land God gave me… I'm not afraid to go back and rebuild the church. The Holy Spirit makes me strong."
The Ahladpur incident is just one of the many Hindu extremists attacks continuing to take place across rural India. Persecution Relief documented 91 incidents of persecution in Uttar Pradesh alone in the first ten months of 2018.
Eight Christians booked
A year ago, on 12 November 2017, nine extremists raided a prayer meeting at Pastor Lal's church and demanded that it be stopped. An eyewitness said nine activists from a right-wing organisation barged into the meeting, threatened the Christians and later returned with a police team. The police booked eight Christians, including Pastor Sone, who had been leading the meeting.
Kaushambi superintendent of police Pradeep Gupta told Hindustan Times, "We took the action after receiving complaints from a group of people that religious conversion was under way."
Pastor Sone reported, "Around 300 people assembled as usual on Sunday morning. Suddenly eight to nine people barged in and demanded that the prayer meeting be stopped. They also threatened us. After twenty minutes they returned with the police who took nine of us to the police station. One Kaushal Kumar (16) was a minor. Hence the police let him go and booked the rest of us under section 151."
Under Section 151 of the Indian Penal Code, joining or continuing in assembly of five or more persons, after it has been commanded to disperse, that may cause disturbance of public peace, is punishable with a maximum jail term of six months or a fine, or both.
Many of those attending the prayer meeting were Hindus who said they had started attending meetings after witnessing miracles in the lives of their friends and acquaintances.
Elsewhere in Kaushambi District, similar disruptions took place at Birner village, 8 km from Ahladpur, on 29 October and 5 November 2017.
(Hindustan Times/International Christian Concern/Persecution Relief)
Share this