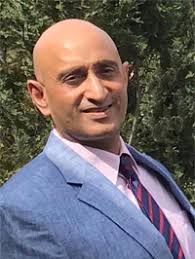 Mr Sandeep Kumar, the newly-appointed Ambassador of India to Ireland, has said that the Indian Embassy in Dublin wishes to engage in dialogue with Church in Chains about the issue it has raised of Christians in various states of lndia facing violent attacks from Hindu extremists on an ongoing basis.
Mr Kumar made the comments during a meeting at the Indian Embassy in Dublin on 28 March which was attended by David Turner (Director, Church in Chains) and Susanne Chipperfield (Operations Co-ordinator, Church in Chains). Mr Kumar delegated responsibility for this dialogue to Mr Somnath Chatterjee (Counsellor with responsibility for Political Affairs).
The meeting was arranged after Church in Chains wrote to the Ambassador requesting him to receive a petition signed by 17 TDs and Senators expressing concern about the violence being perpetrated against Christians in India. Mr Chatterjee had replied to this letter by offering to meet to discuss the issues but stating that a formal meeting with the Ambassador to present the petition would require "extra permissions".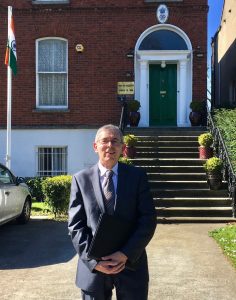 At the meeting,  David Turner (pictured) introduced the work of Church in Chains, emphasising the global reach of its concerns, and gave Mr Chatterjee a copy of the Church in Chains Global Guide. He explained that Church in Chains had compiled a report (sent to the previous Ambassador in Spring 2018) detailing attacks on Christians in India during the period July – December 2017.
Mr Chatterjee commented on the many historical links between Ireland and India (constitution, flag and the fact that Mahatma Ghandi was influenced by Terence McSwiney, the Lord Mayor of Cork who died by hunger strike in 1920) and stated that Christians held a respected place in Indian society. He pointed out that India is the largest democracy in the world and is a secular, federal state. In response, David Turner praised India's democratic system but pointed out that it was even more shocking that such violence against Christians was happening in a democracy.
Embassy aware of Church in Chains' concerns
Mr Chatterjee went on to say that he is fully aware of what happened with regards to Church in Chains in the past year. He said that he had read Church in Chains' India Report more than once and had seen the many postcards [sent by Church in Chains supporters in Spring and Summer 2018]. Mr Chatterjee stated that the postcards were all photographed in the Embassy and sent to India to report back to the federal government. He said he knew that a Dáil question was put to Minister for Foreign Affairs Simon Coveney [by Maureen O'Sullivan TD] about attacks on Christians in India and was aware of his reply. Mr Chatterjee explained that the previous Ambassador declined to appear before the Oireachtas Joint Committee on Foreign Affairs and Trade in accordance with Indian Embassy policy.
He explained that India is a vast country of Hindus, but also of Muslims and Christians. There are vibrant Christian communities, Christians in all levels of government, Christian schools and Christmas celebrations – according to Mr Chatterjee, Christians are an integral part of Indian culture. He said the cases described in Church in Chains' report, while deplorable, are isolated and could be due to personal disputes or even Christians attacking Christians. He said that for each case a First Information Report was filed and that the authorities were doing what they could to pursue the perpetrators, but that given the size of the country, it takes a long time. David Turner said that Church in Chains has partners on the ground in India and knows for a fact that in the cases of the Christians featured in the report, no justice has been done.
Discussion of incidents 
When Mr Chatterjee repeated that the incidents giving rise to concern were "isolated", David Turner gave him a copy of Church in Chains' latest magazine (Spring 2019) and pointed out the article "One Sunday in India" describing three separate attacks in three states on one day in February 2019. Mr Chatterjee summarised what he had said earlier about India being a secular state, the vastness of the country and the few isolated attacks that are being investigated.
Susanne Chipperfield pointed out that the Christians who were attacked often have reports filed against them (rather than the other way around) based on anti-conversion charges. She said that these anti-conversion laws in many states seem to be a contradiction of the fact that India is a secular state. Mr Chatterjee said he could not comment on that as he was a representative of the federal government and not of individual states.
Conclusion
The cordial 45-minute meeting drew to a close and Church in Chains followed up on it by writing with a formal request to the embassy to seek the "extra permissions" that were stated to be required to receive the petition signed by seventeen members of the Oireachtas. In the letter, it was pointed out that the reception of petitions signed by Oireachtas members is the normal policy of foreign embassies in Ireland as it demonstrates a respect for the members of the Oireachtas.
Share this