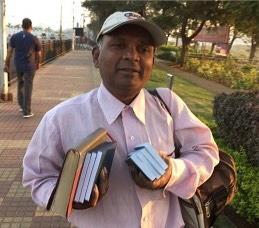 Mr K.A. Swamy (47) suffered a brain haemorrhage after being threatened by Hindu extremists while he was distributing Bibles in the city of Hyderabad.
Swamy works as a professor of engineering and also volunteers with the Gideons (an international Christian group which distributes Bibles free of charge). He was distributing Bibles on Tank Bund Road in Hyderabad, capital of Telangana state, on Saturday 21 January when a group of extremists (members of the Vishwa Hindu Parishad, an umbrella group for Hindu extremist organisations) surrounded him in the street and threatened to kill him and his family. They took him to the police station, where he spent the day in custody.
"Swamy explained to them that it, the Bible, is for free and that he is not forcing anyone," said his wife, Kusuma Sujatha. "They had shown Swamy so many photos of him in different shirt colours that they must have been following and observing his movement."
In a video of the bullying, one of the extremists said, "We have photographs of you distributing Bibles in different locations…You were doing this on Necklace Road also. This fellow is doing it for a long time."
After shouting at Swamy for "doing religious promotion" and "catching hold of people who are coming for morning walk here," they ridiculed him by forcing him to put a Bible on his head.
The extremist recording the video then told him that even if he denied it, "we've got cameras," and one of the other members reprimanded him: "Not just here, you must not promote Christianity anywhere in India."
Before they forced him into their vehicle, the Hindu extremist said again, "You must not do this anywhere in this country. You must not do this… Pick up your bags. You carry your own sins – your bag. All your family and children will go in fire. I tell you, 100 percent it's going to happen."
Police Statement
Sub-Inspector Narsimha Naik of the Mahankali police station told those who brought Swamy in that there was nothing wrong with distributing Bibles if there was no force involved. "They kind of dealt roughly with him before bringing him to us," Naik said, "asking provocative questions – 'How dare you distribute Bibles? Why are you distributing them on roads? Do it in your church.'" From the police station, Swamy phoned the President of the local Gideons group, who helped secure his release.
Swamy's wife said a fellow Christian came to pick him up after his release at the end of the day. "That's when he complained of dizziness and collapsed in the car they were driving," she said. "I am unable to understand anything. Physically he is a very fit man, no past record any kind of illness. This hemorrhage all of a sudden is shocking. Please keep praying for him."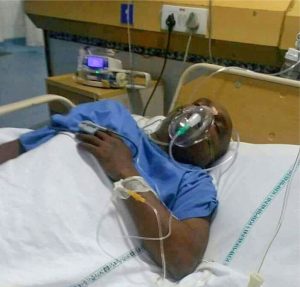 Dr. Shaik Sardar, a neurosurgeon at Kamineni Hospital, believes that hypertension led to the brain haemorrhage. "The patient is being ventilated, and we will assess daily his breathing pattern, oxygen levels, heart rate, blood pressure, everything," he said. "Because of bleeding, his consciousness levels are very low. His consciousness levels also should get better, and if it is possible within couple of days or three days, we will try to operate on him." The Telangana state government promised to cover his medical expenses after local Christians approached the state Home Ministry for help.
The persecution of Christians in India increased sharply in 2016, with preliminary figures showing 361 violent incidents – over double the number recorded in 2015.
(Morning Star News/World Watch Monitor)
Share this