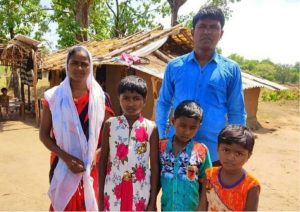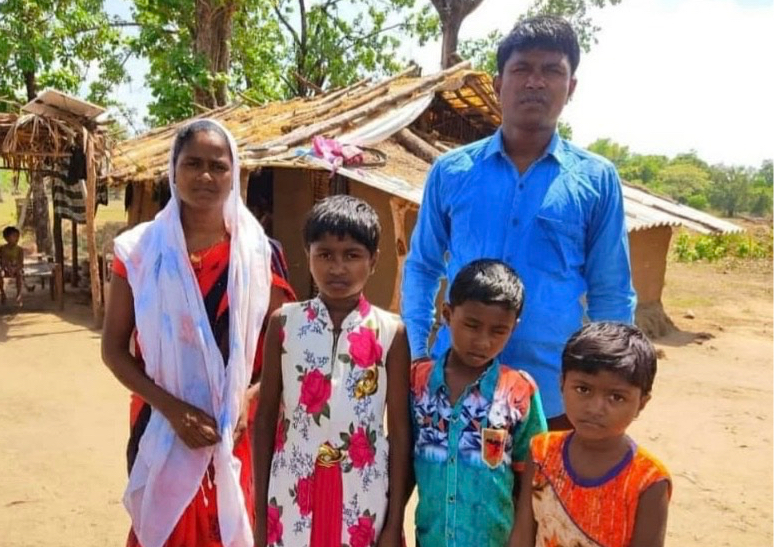 A pastor was shot dead in Maharashtra state on 10 July making him the fourth Christian martyred in India since late May. Pastor Munsi Deo Tando was abducted and murdered by Naxalites (far-left communist revolutionaries who follow the ideology of Mao Tse Tung).
Pastor Munsi had concluded leading a worship service at 6pm in Bhatpar village when a group of three armed men and three women arrived at his house. They tied his hands behind his back with a rope, but said they just want to talk to him. Family members followed the Maoists until they were pushed away and thrown to the ground.
"Hardly five to seven minutes later, we heard a gunshot," Pastor Munsi's wife Jaini said. "We immediately ran in the direction only to find the body of my husband in the pool of his blood, and the Maoists had gone. I wept bitterly, my husband was gone."
Pastor Munsi who was in his mid-thirties is survived by Jaini and their four children, aged 6, 5, 4 and 1. It is believed that villagers upset with the growth of the church and the number of converts to Christianity from their native tribal religion incited the Maoists to kill the pastor.
Pastor Munsi and his wife were former Maoists, having joined the Naxalite movement in 2005, and served an 18 month prison sentence for participation in the communist insurgency. After release, they returned to their village and began to make a living working their farmland. "Since that day till only now, the Maoists never visited us or troubled us, nor called us back," Jaini said.
A mentor and close friend of Pastor Munsi, Pastor Vijay Kumar, reported that the family began to suffer persecution after Munsi and Jaini put their faith in Christ seven years ago. They heard the Gospel from a Christian from a nearby village and were the first family to convert from their tribal religion in the village.
Despite much opposition from villagers, the church that Pastor Munsi led had grown from three families to eighteen families and he had just opened a small church building on his own farmland two weeks before he  was murdered. His wife Jaini said "We earned our living by serving the Lord and by working in the fields. Now that my husband is gone, I will ask God for His grace for me to bring up the four children."
A report was filed at Bhamragarh police station and investigations continue. An autopsy of Pastor Munsi's body was scheduled to take place at the government hospital of Bhamragarh on 12 July.
Other recent murders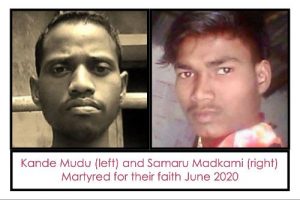 On 7 June, a group of armed religious extremists attacked and murdered 27-year-old Christian Kande Mudu in Bari village in Jharkhand state. The killing took place only three days after Hindu extremists in Odisha state murdered Christian teenager Samaru Madkami.
On 29 May the body of a 40-year-old Christian widow was found in a wilderness near Kumud village, Chhattisgarh state. Local Christians suspect that she was killed by villagers who were upset by her conversion. Bajjo Bai Mandavi was last seen on 25 May going into the wilderness of Kondagaon District to collect firewood. When her body was found it was initially unrecognisable as it was partially eaten by wild animals.
In the past she had suffered death threats, deprivation of water and shunning at the hands of villagers which lead family members and Christian leaders to believe she was raped and killed before animals fed on her body.
Bajjo is survived by her four children, aged 6, 8, 12 and 17. Her brother-in-law Bhajinath Mandavi said: "I am still in shock. I do not know what the future of her four children will be." He was unable to attend his sister-in-law's funeral due to coronavirus travel restrictions and has been caring for the two younger children. The 12-year-old child has been living with another relative about 50 kilometres away for the past year while the oldest son, a contract labourer in Tamil Nadu state, was also forced to miss the funeral due to travel restrictions.
In the first half of 2020, Persecution Relief recorded 293 cases of hate crimes against Christians.
On 8 July a Church in Chains delegation presented a petition to the Indian ambassador in Ireland requesting the Indian government act to protect Christians who continue to face ongoing attacks from extremists.
(Morning Star News/ Persecution Relief)
Share this