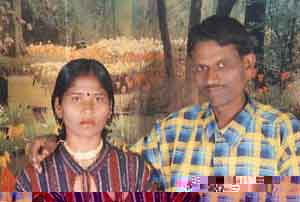 Pastor Dharmesh Ninama is an Assemblies of God missionary in Gujarat, an Indian state run by the BJP. He has been violently assaulted twice by a Hindu militant gang opposed to his open preaching.
On 29 May, the militants attacked the pastor in an even more painful way ÀÜ they assaulted and kidnapped his wife, Manulaben Dinana (23). Eyewitnesses say she was kidnapped in the market by a group of ten men led by a Hindu militant named Devjibhai Hirabhai Pargi.
Local police made no attempt to find Dinana, nor would they question her known kidnappers. Amazingly, the Director General of Police, the State Human Rights Commission and State Women's Commission, have also refused to investigate.
Ninama searched until he found Dinana tied up in the home of a militant named Shankarbhai Hirabhai Maal. As the police would not act, Ninama and his relatives attempted a rescue, but they were savagely beaten. In Ninama's presence, Chief Inspector Gohil Shankar demonstrated he knows the kidnappers and where they are by phoning and asking them to release Dinana. They replied that the pastor would get his wife back soon. No further police action was taken. Dinana has been in captivity for more than six weeks now and Ninama fears greatly for her life.
This total inaction makes the local authorities willing accomplices to this criminal act. The way Gujarat's Hindu militants can assault and kidnap Christians with impunity sends a dangerous and concerning message. The national government has an enormous task ahead to deal with rogue police and authority figures in BJP-dominated states like Gujarat. (WEA RLC)
Share this