Christians in India who previously experienced little or no persecution have reported many violent attacks over Christmas. At least 18 incidents against Christians were reported and verified during the Christmas season, according to the Evangelical Fellowship of India (EFI).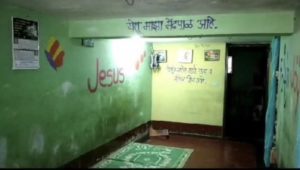 The worst attack caused seven Christians to spend Christmas in intensive care, with three having to undergo surgery. Masked men carrying swords, knives, iron rods, glass bottles, stones and other sharp objects attacked the congregation of New Life church on Sunday 23 December in Kowad village in Maharashtra state. As they entered the building the Hindu extremists shouted: "Jai Bhawani, Jai Shivaji," which means victory to Bhawani, a Hindu goddess, and victory to the historical Hindu warrior king Shivaji. There were forty people present at the service when the attackers arrived: 16 men and 11 women were injured in the attack. Three had serious head injuries while two received deep cuts on their hands, requiring stitches. "I have been living here since the year 2000," Pastor Chavan (36) told Morning Star News. "We have faced some opposition before, but never an attack of this kind."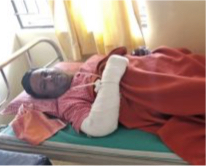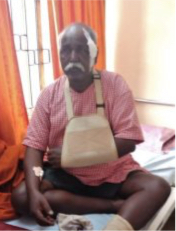 The assault only lasted a couple of minutes and was cut short as some women were able to chase the attackers away by throwing handfuls of chilli powder into their faces. Among the injured were Arjun Mutkekar (47, pictured left) who underwent surgery for a broken hand and elbow as well as a hip injury and Maruti Patil (69, pictured right) who suffered a serious head injury and fractured his hand.
Initially a case was filed against unidentified attackers for attempt to murder, voluntarily causing grievous hurt by dangerous weapons, rioting and defiling a place of worship. On 29 December five men were formally arrested and investigations are still ongoing.
Children's Christmas outing disrupted
On 25 December a mob from the youth-wing of the extremist World Hindu Council stopped four buses carrying two hundred children in Haridwar, Uttarakhand state. The children, all Hindus from slums of Haridwar, were on their way to a Christmas programme in the nearby city of Dehradun. The thirty men demanded the arrest of the Hindu teacher, Sandeep Kashyap, who was escorting the children, complaining that the children were being taken to churches in Dehradun to be forcefully converted to Christianity and subjected to sexual abuse by pastors. The teacher was arrested, and police came under intense pressure from extremists to hold him in custody even after learning that no forceful conversion was taking place.  Kashyap has been working with slum children for ten years and has been taking them to the Christmas programme the past four years. He told Morning Star News: "Never has such a problem risen in the past years. I did not know that taking the children to witness a Christmas program was such a big crime."
Reactions to Hindu strategy
According to Christian leaders in India, Hindu nationalists had a well-planned strategy to target Christmas services, processions and programmes to create an atmosphere of disharmony and to polarise people.
In almost all 18 cases reported during the Christmas season, police came under pressure from Hindu extremists, also revealing a strategy to harass Christians with legal problems. An Uttar Pradesh newspaper reported on 26 December that police were exhausted on Christmas Day from taking numerous calls alleging "forceful conversion," and that they had to comply by raiding several Christmas programmes. "Phone calls keep coming from Hindu groups who allege conversions, and so we have to go and investigate. We cannot afford to ignore them," an anonymous source told the newspaper.
"Both the frequency of the attacks and their intensity has increased in the past few years," said Rev Vijayesh Lal, general secretary of the EFI.
Church in Chains partner Shibu Thomas, founder of Persecution Relief, said: "The secular fabric of India and Indian democracy is being shredded every day. It might take several years to eliminate the hatred that has been injected in the society based on religion, polarizing communities."
(International Christian Concern/Morning Star News/Persecution Relief)
Share this