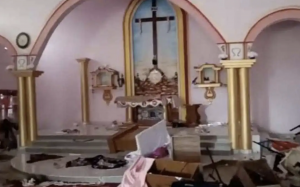 An angry mob attacked a Roman Catholic church in Narayanpur district in southern Chhattisgarh state in central India on 2 January, in the latest episode of anti-Christian violence in the state.
The mob, numbering hundreds, armed with wooden sticks and iron rods marched into the compound of the Sacred Heart Church in Edka village which also houses a school where 1,000 children were studying.
The mob threw stones at the church windows, broke open the doors, destroyed the  altar, crucifix, a statue of Jesus and smashed the furniture. The mob also vandalised a Marian grotto and the presbytery in the village.
The violence broke out when a group of indigenous animists was protesting earlier clashes in which some of their people were reportedly injured. The protest turned violent and a mob barged into the compound of the church.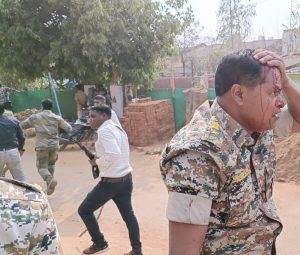 Police Superintendent Sadanand Kumar (pictured), who sought to stop the attack, was wounded in the head. Speaking to reporters, he said: "The tribal communities had called a meeting and their leaders had contacted me so that the event could be held peacefully. But suddenly some people attacked the church and police teams rushed to the scene. I was attacked from behind. Investigations will be carried out against the assailants."
On the day after the attack, police arrested ten people in connection with the violence including local leaders of the Bharatiya Janata Party (BJP), which runs the federal government. The arrests were criticised by BJP members of the Chhattisgrah State Assembly, who accused the state government (led by the Congress Party) of turning a blind eye to religious conversions in the state. Chhattisgarh is one of ten Indian states, where anti-conversion laws are in force. Officially called "Freedom of Religion" laws, they are intended to stop Hindus being converted to other religions.
Ongoing violence
Violence against local Christian families has been going on since early December. On Sunday 4 December, thirteen Christian families, comprising 66 people, were expelled from their home village of Mungwal after refusing to deny their Christian faith and return to their earlier tribal faith (a combination of Hinduism and animistic beliefs).
On Sunday 18 December, Hindu nationalists armed with bamboo sticks carried out coordinated attacks against twenty Christian villages as Christians gathered for worship. The attackers looted and destroyed the homes of many Christians and desecrated three church buildings. Several people were severely injured and hospitalised, while others fled to the jungle or to nearby police stations. When Christians reported the attacks to authorities, police told them they would take no action.
On New Year's Day, a mob attacked Christian families in the village of Gorra, accusing them of following a "foreign religion" and ordering them to go and live in the forest.
This violence has been described by Irfan Engineer, the director of the Center for Study of Society and Secularism as "the culmination of an organised campaign to forcibly convert Christian Adivasis (indigenous and tribal people) to Hinduism,"  He led a fact-finding committee to the area and said, "Those displaced were threatened to denounce their Christian faith and convert to Hindu religion failing which they would have to leave their village or face dire consequences, even death."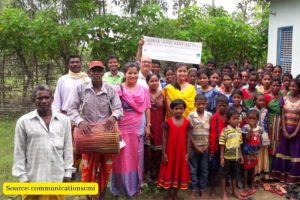 The Christian families who fled their villages have been given shelter in different locations and community halls in Narayanpur, according to the president of Chhattisgarh Christian Forum, Arun Pannalal, who noted that "the district administration is providing them food and other amenities."
(Asia News, India Times, Indian Express, International Christian Concern, Peoples Dispatch, Union of Catholic Asian News)
Image Credits: UCAN,  Mahmodul Hassan, Communications SCMI
Share this