Violence against Christians continued all across India in March with a large number of hate crimes including cases of police brutality.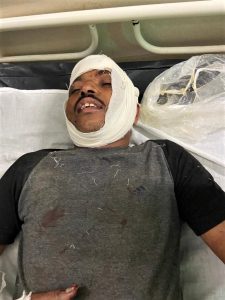 On 4 March Isaac Paulose (pictured), an evangelical church leader, was beaten and then run over with several motorbikes by Hindu extremists in Madhya Pradesh state in central India. The 48-year-old elder at Grace Fellowship Church in Sehore and coordinator of the New India Evangelistic Association in Madhya Pradesh state was attacked shortly after dropping his 5-year-old son to school that morning. Paulose was in his car when a Hindu nationalist on a motorcycle stopped him close to his home and told him to get out of the vehicle. As soon as he stepped out of his car, nine others joined in and began to beat him with bamboo logs and a thick metal chain with a lock attached to it. After the beating Paulose was lying on the street and the attackers proceeded to drive their five motorbikes over him, injuring him further and breaking his rib. When passers-by noticed the attack the extremists fled with the threat that if Paulose continued to "convert people", they would kill him.
Paulose was rushed to a local hospital for treatment and on later that day was transferred to Bhopal Fracture Hospital, 42 kilometres from Sehore. Apart from a broken rib, the elder also sustained injuries to his head and legs and left hand.  His hand required two surgeries due to multiple fractures and he received two stitches at the back of his head, and one stitch on his forehead. Church in Chains' partner Persecution Relief paid for most of his hospital treatment.
Hemant Lal, a Christian leader from Bhopal, told Morning Star News: "Brother Isaac's condition was very bad when he was brought to Bhopal. I was amazed at his faith. He told me he was not scared, and that there will be difficulties in doing the Lord's work, but that he was glad that he suffered for the name of Jesus."
Sehore police registered a First Information Report (FIR) on 4 March against unidentified assailants under the Indian Penal Code for criminal intimidation, damage, wrongful restraint and voluntarily causing hurt. The following day they added a section pertaining to attempted murder.
Hindu symbol forcibly applied to Christians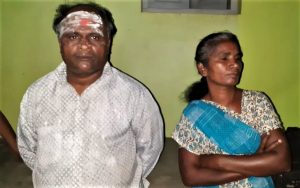 On 5 March in Tamil Nadu state in south India, seven Hindu extremists intercepted a Christian couple while they were distributing gospel tracts. Babu Phinehas and his wife Esther (pictured) were handing out Christian literature in Pakkam village on their way home from work when a Hindu extremist mob stopped them. First they abused them verbally and then they smeared Hindu sacred ash and vermillion on the Babus' forehead. When Esther resisted their attempt to apply the Hindu symbol on her forehead, the extremists threatened that she would be attacked by the women from the village.
The police refused to take action against the assailants.
Police detain Christians providing aid to poor
On 8 March in Tamil Nadu state, police detained a group of Christians on false charges of forcible conversion while they were distributing basic necessities in a slum.
Shortly after Pastor Perumal Kanagaraj and about thirty young adults from the Viluppuram Church of South India arrived in the nearby slum area of Anumandai village, a member of the extremist group Hindu Munnani started attacking the young people with the help of a crowd that had gathered and would not let them leave.
When the Christians wanted to call the police, the Hindu nationalist told them he had already filed a police complaint against them, and that they would be put behind bars. The police arrived and the Christians were taken into custody where they were verbally abused and slapped again this time by the officers. Police released them with a warning that they should not be seen again attempting to convert people in the area.
For the past three years the church had provided aid to the local poor, who lack access to basic services.
Pastor's family expelled from village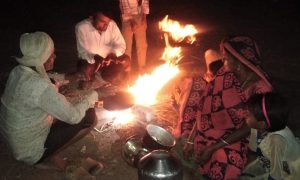 On 9 March in Madhya Pradesh state, a Christian family was driven into the jungle by tribal animists in Bilood village. A group of villagers who worship ancestors and objects in nature told Pastor Lalu Kirade's family they would be expelled unless they abandoned Christianity. The attackers, most of them known to the family, destroyed the family home including livestock and food supplies, and attacked family members. Pastor Kirade took his family and escaped to the thick jungle near the village (family pictured huddled beside  fire in the jungle).
After spending two nights in the jungle, the family found refuge with a church member, but as they only have one small room, the family is sleeping outside.
On 11 March Pastor Kirade's nine-year-old daughter was intercepted by the wife of the main attacker on her way to the village school and threatened that should she be seen in the village again, she would be beaten to death.
The Evangelical Fellowship of India has sent help for the family and has told Pastor Kirade that he should look for a piece of land as they hope to help him buy it to build a new house for his family.
Christians suffer police brutality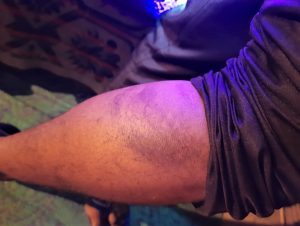 On 15 March in Uttar Pradesh state in northern India, Christians were beaten in police custody after a Hindu extremist attack on their church of two hundred.
During the Sunday service at the church building beside Pastor Indresh Kumar Gautam's home in Pratapgarh District, thirty young men from the militant Hindu organisation Bajrang Dal arrived armed with hockey sticks and steel rods. The attackers, who were accompanied by police officers, accused the church of increasing conversions in the area and started to loot the building and attack church members. The police officers did not intervene but instead forced five church members into police vehicles and took them to the Kunda police station.
Four Christians were then taken into custody where they were beaten with a cane by an officer in plainclothes. At one stage the police officer forced some of the Christians to pose like Jesus on the cross. The torture continued for three hours. 
Several hours later the Christians were released on bail after being forced to sign an affidavit stating that they would never again be involved in Christian conversion activities in the area. Some of the Christians are still in pain from the torture they endured and the picture above shows bruising on pastor Indresh Kumar Gautam's arm. Not wanting other church members to suffer as they had, the church has split into smaller groups meeting in various homes. 
(Morning Star News)
Share this