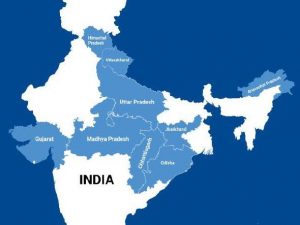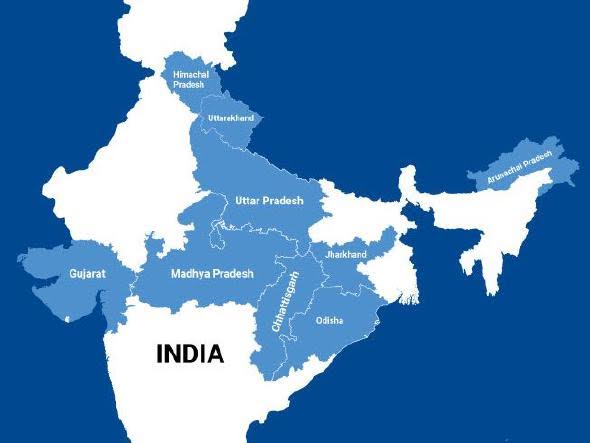 New anti-conversion laws introduced in several Indian states in recent months are being used by Hindu militants as legal justification to accuse Christians of forcibly converting Hindus, leading to reports of increased levels of mob attacks on Christians.
Officially called "Freedom of Religion" laws, anti-conversion laws had already been passed in ten Indian states (see map), although in three they were not active. Intended to stop Hindus being converted to other religions, they forbid conversion by "force, fraud or allurement" and state that those who wish to convert must first gain official permission and that religious leaders must report conversions or risk imprisonment. Undefined wording such as "allurement" leaves the laws open to interpretation and makes Christians vulnerable when they share their faith or provide aid.
While no Christian has been convicted of forced conversion in India, extremists use the laws as a licence to attack Christians, acting with impunity and rarely being arrested. The laws are not applied to Hindus and many people who have left Hinduism are coerced to convert back in "Ghar wapsi" ("homecoming") ceremonies.
In the states of Uttar Pradesh and Madhya Pradesh (which already had anti-conversion laws but has introduced harsher legislation, increasing fines and lengthening potential prison sentences) the enactment of the laws in February and March initiated a wave of anti-Christian violence, and the announcement of Karnataka's intention to enact anti-conversion laws had a similar effect, even before enactment.
"Love Jihad"
Another motivation behind the introduction of anti-conversion laws is the desire to counter "Love Jihad". This is an emotive term used by radical Hindu groups to stoke sectarian fear by accusing Muslim men of luring Hindu women into marriage in order to force their conversion to Islam, and is the driver of laws criminalising conversion solely for the purpose of marriage.
Anti-conversion laws in several states require an advance "declaration of intention to convert" application to the district magistrate (as much as sixty days in some states) before a couple from different religions can marry, and the authorities may conduct an investigation into the intention behind the proposed conversion.
Madhya Pradesh
The Madhya Pradesh Freedom of Religion Act 2021, adopted into law on 8 March, replaces the state's 1968 Freedom of Religion Act and makes Madhya Pradesh the state with the harshest anti-conversion laws in India.
The new laws require that permission to convert be sought by making a "declaration of intention to convert" to the district magistrate sixty days in advance of conversions, including by religious leaders facilitating conversions, with penalties for infraction of three to ten years in prison and fines of between 25,000 and 50,000 rupees (€280 – €560); larger fines apply to people convicted of using marriage as a means of conversion. The new laws reverse the burden of proof, placing it on the accused.
Uttar Pradesh
With the enactment of the Prohibition of Unlawful Conversion of Religion Ordinance 2020 on 24 February 2021, Uttar Pradesh became the eighth state in India to enforce an anti-conversion law.
As in Madhya Pradesh, the new laws state that a "declaration of intention to convert" be made to the district magistrate sixty days in advance of conversion, including by religious leaders facilitating conversions. The district magistrate will conduct a police enquiry into the intention, purpose and cause of the proposed conversion, and if it is deemed unlawful, penalties of up to ten years in prison and a fine of 25,000 rupees (€280) will apply.
Gujarat
On 1 April 2021 Gujarat state passed the Gujarat Freedom of Religion Act 2021, which amends its 2003 Freedom of Religion Act. Individuals seeking to change their religion must apply to the district administration sixty days in advance, as must religious leaders facilitating religious conversions, with fines and prison sentences of three to five years for infraction. The law specifically criminalises marriages done solely for the purpose of religious conversion and expands the definition of "allurement" to convert to include promises of a better lifestyle or divine blessings.
Himachal Pradesh
The Himachal Pradesh Freedom of Religion Act 2019, implemented in December 2020, repeals the Himachal Pradesh Freedom of Religion Act 2006 and imposes more severe punishments. The requirement for a prior thirty-day "declaration of intention to convert" before a magistrate existed in the 2006 law, but the 2019 law adds provisions related to conversions for the purpose of marriage, increases maximum prison sentences from three years to seven years and puts the burden of proof on the person converting or the religious facilitator.
More states plan anti-conversion laws
On 6 January 2021, the Minority Welfare Minister of Karnataka announced that the state would enact an anti-conversion law to counter the supposed threat of "Love Jihad". Since this announcement, attacks on Christians and other religious minorities in the state have dramatically increased in number and severity.
A Methodist minister in Karnataka told International Christian Concern, "The level of intolerance has reached new heights here. We used to hear about isolated incidents here and there. But now, the attacks on Christians are deliberate, well-planned, and violent. There is no exception for any denomination or congregation."
On 18 February 2021, Haryana's Home Minister Anil Vij told the media that he had instructed state officials to prepare a draft anti-conversion law.
Supreme Court rejects petition for nationwide anti-conversion law
On 9 April, the Supreme Court of India rejected a petition calling for a nationwide law against religious conversions. The petition, filed in the form of public interest litigation by Supreme Court lawyer Ashwini Upadhyay (a member of the Hindu nationalist Bharatiya Janata Party), sought direction from the Supreme Court to order the federal government to enact a nationwide law against religious conversions and black magic.
"I don't see a reason as to why any person above the age of 18 years cannot choose his religion," Justice R. F. Nariman told the petitioner. "There is a reason why the word propagate is there in the Indian Constitution." Article 25 of the India's Constitution guarantees citizens freedom of conscience and the right to profess, practice and propagate the religion of their choice.
The court warned the petitioner that it would impose a heavy cost on him if he persisted with the petition, forcing him to withdraw it.
Two months earlier, on 2 February, the Indian government had stated that it has no plans to implement a nationwide anti-conversion law. Minister of State for Home Affairs G Kishan Reddy was replying to a question raised by five MPs, in the context of the introduction of new freedom of religion laws in Madhya Pradesh and Uttar Pradesh, as to whether federal anti-conversion legislation might be planned.
The Minister said in a written reply, "No, Sir" and stated that, "prevention, detection, registration, investigation and prosecution of offences related to religious conversions are primarily the concerns of state governments and Union Territory administrations. Action is taken as per existing laws by law enforcing agencies whenever instances of violation come to notice."
(Barnabas Fund, Evangelical Fellowship of India, Guardian, Hindustan Times, Indian Express, International Christian Concern, Open Doors, Religious Liberty Prayer Bulletin, Telegraph of India, Times of India)
Map credit: Barnabas Fund
Share this