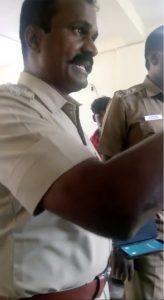 On Sunday 13 May 2018 a pastor in Peelamedu, Tamil Nadu, was summoned to the local police station where he and his mother were harassed by the officers in charge.
Pastor Paul Joshua (30) was leading a Sunday worship service in his church in a suburb of Coimbatore, when he noticed that police officers were waiting outside his church. He hurriedly concluded the service and when he addressed the officers, he was told to go to Peelamedu police station for an enquiry. Pastor Joshua told Morning Star News, "They were very polite and assured me that it was not an arrest, and that the inspector would talk to me in detail."
Pastor Joshua's mother Florence Jacintha (58) and two members of his congregation decided to accompany him to the police station.
However things quickly took a turn for the worse when they got there. When Pastor Joshua enquired why he was asked to present himself to the police, Inspector Selvaraj (pictured) reacted angrily. He shouted verbal abuse at them and told the four Christians to sit on the floor. One of the congregation members was recording the outburst on his mobile phone, but police officers slapped him and snatched his phone from him. When Pastor Joshua asked him again why they were treated in this way, the inspector responded with: "I am the boss here. You have no rights to ask or question me." Inspector Selvaraj continued mocking the pastor and threatened to file unrelated, serious charges against him.
As Florence got up to leave the police station to inform her husband about her whereabouts, she was forcefully restrained and pushed to the ground by police officers. The assault left her unconscious and Inspector Selvaraj prevented anybody from helping to revive her for quite some time. When Florence was given some water at a later stage, she regained consciousness. A female officer observing the incident warned the pastor's mother not to tell anyone about the inspector's conduct at the police station or she would face problems.
The police officers refused to let the Christians go unless Pastor Joshua submit a letter that he would not conduct any more church services. Several other local pastors had arrived at the police station in the meantime and a senior pastor advised Pastor Joshua he should sign the letter as he could obtain permission to resume services at a later stage. So after refusing to sign the letter initially, Pastor Joshua complied in the end.
According to Morning Star News, Inspector Selvaraj has gone on leave since this incident.
(Morning Star News/Persecution Relief)
Share this