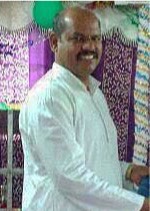 The body of a Pentecostal pastor was found hanging from the thatched roof of his house in Tamil Nadu, southern India, early on the morning of 20 January, a week after he complained to police about opposition from Hindu extremists.
Church members said they found the body of Pastor Gideon Periyaswamy (43) of Maknayeem Church hanging from a rope in his one-room house beside the church building in Adayachery village, Kanchipuram District, but that his knees were bent as if his body had been hung after death.
A deputy superintendent of police identified only as Rajendiran told Morning Star News that a week before his death, Pastor Periyaswamy filed a complaint "on some village people troubling him" and that a police investigation was underway.
Pastor Periyaswamy's close friend Pastor Azariah Reuben told Morning Star News, "The local Hindus were not happy with growing Christianity. They had several times tried to stop the ministry."
He said that Pastor Periyaswamy often spoke of Hindu hostility to his church services and requested prayer, and he reported that Pastor Periyaswamy once said, "I have no problem – if needed, if the Lord permits it, I would die as a martyr for Christ, but the ministry should not stop."
The organisation British Pakistani Christian Association reported that Pastor Periyaswamy had received frequent death threats from radical Hindu groups concerned about the rapid growth of his church, and that they had accused him of "forced and bought conversions". The organisation stated that in 2017 the church building suffered severe vandalism to the roof and that on another occasion during 2017 its water supply was cut off.
A congregation member identified only as Indira said that on Sunday 14 January, Hindu extremists were upset about a car sitting outside the area designated for church parking. She said, "They pelted stones at the car, and the pastor made an announcement requesting the church members to park their vehicles within the church premises only."
Indira said that for the past six months, local hard-line Hindus had harassed the pastor every Sunday. "When they see the pastor, they laugh, giggle and crack humiliating jokes at him," she said. "They would always look for something to pick a fight over. But pastor told us, 'We should be at peace with our neighbours – let's not give them a reason to fight."'
Another member of the congregation, named Regina, said that last year local Hindu extremists kicked and beat the pastor.
Discovery of the body 
It was church members Indira and Regina who found the pastor's body. Regina explained, "On Friday night [19 January], our pastor visited the church families. He told me and other sisters that there will be a fasting prayer on Saturday morning at 10 am, so please come early and clean the church hall."
They arrived on Saturday morning at 5 am to clean the church building, and were surprised to find the pastor's room bolted shut.
"We opened the door and were shocked to find Pastor Gideon Periyaswamy hanged," Regina said. "A rope was fastened to the roof and tied to pastor's neck, but his knees were slumped towards the ground. When the police came to unhang the pastor's body, we saw a cut in his neck area. There was blood clotted."
Investigation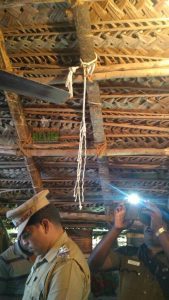 The deputy inspector general of police of Kanchipuram, identified only as Thenmozhi, told Morning Star News, "We will ensure a fair investigation. If there is any troublemaker involved, we are looking at all angles regarding this… The post-mortem begins once the enquiry starts. Let the family and relatives come out with the facts they have; once we are given the witnesses' statements and some supportive material, we will ensure post-mortem."
Police inspector Amal Raj told UCA News, "Prima facie it appears to be a case of suicide but we are looking at all possible angles."
Nehemiah Christie, director of legislations and regulations for the Synod of Pentecostal Churches said, "There is urgent need for an autopsy in the presence of a judicial magistrate. Pastor Gideon Periyaswamy's death can't be ruled out as suicide."
Caste conflict
Local Christian leaders, including Pastor Immanuel Prabhakaran, who worked with Pastor Periyaswamy, said that the pastor, who was a Dalit, faced stiff opposition from the high-caste Vanniyar group in the area. Pastor Prabhakaran said, "Not a single Sunday service in the past six months passed off peacefully without disturbance."
He said the Vanniyar group wanted the pastor to stop his mission activities involving lower-caste people, which they claimed polluted their area, and told Morning Star News, "They threatened the pastor, 'How dare you set up a church in our locality? This area is of upper castes. Stop running church here. Stop inviting schedule [lower] castes to our area. You leave this village else we will make life difficult for you.'"
Church members suspect that Vanniyar and village leaders were behind the murder. One member said, "These people had cut the church's water supply by disconnecting the pipeline."
Background
Pastor Periyaswamy, who was single, converted from Hinduism 25 years ago and had served as pastor in Adayachery for more than twelve years. He was known as a man of prayer, praying for over five hours daily.
Maknayeem Church, which belongs to the Synod of Pentecostal Churches, began as a house church under his leadership and met in a shed until the current structure was built. In 2016, local Hindu nationalists demolished the shed.
Pastor Periyaswamy's cousin Shiv Shankar told Morning Star News that Pastor Periyaswamy was involved in many charity activities and led a simple life. "We come from a Hindu family, and he was the first to convert to Christianity at the age of 18," he said. "He boldly professed his faith. I can never think my cousin would commit suicide. He was murdered."
Two weeks ago, according to his cousin, Pastor Periyaswamy invited all his relatives to the church's anniversary celebrations. "He was elated," he said. "My other cousin and her husband, Gideon's sister and brother-in-law, gifted him a gold ring. He refused, but they forced him to accept. He did. Even that ring is missing."
Protest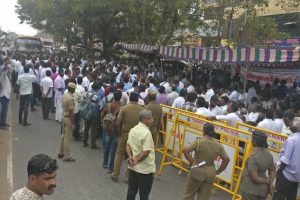 On 22 January, about 2,000 Christians held a protest to demand a fair investigation into the pastor's death. They blocked a busy road in front of Chengalpattu Government Hospital, where his body is being kept in the mortuary pending a post mortem.
Protesters are demanding that police arrest four people, including village leaders, about whom Pastor Periyaswamy complained several times, and who they suspect were behind his death. They want a private doctor to join the team of medical experts conducting the post mortem, which they want to be videotaped in the presence of a judicial magistrate.
Reaction
Reacting to news of the pastor's death, Wilson Chowdhry, Chairman of the British Asian Christian Association, said:
"Pastor Gideon is not the first Pastor to be murdered in India and he will not be the last, but brave men like this should be respected and protected by India's Government and the nation's statutory agencies. By their lacklustre efforts to catch the killers our local police have illustrated the pariah status held by Christians in an ever increasingly polarised nation, under the Narendra Modi regime.
 "The circumstances of his death especially the removal of his gold ring, the lack of a suicide note, the visible bruising and numerous threats and previous incidents, all point in the direction of foul play. Intolerant local police are shamefully choosing to ignore tangible evidence.
"Exhibited police insouciance and apathy when investigating crimes against Christians serves to embolden radicals who gain a sense of impunity; for as long as this continues we can only expect more crimes of this nature in India… The current situation is a slow regression towards a similar type of anarchy to the one that has palpably consumed Pakistan."
(Asia News, British Asian Christian Association, British Pakistani Christians, Morning Star News, UCA News)
Share this