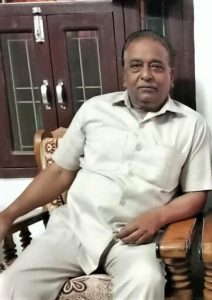 Dependra Prakash Maleywar (58), a pastor in Uttar Pradesh, was filing affidavits on 18 June stating that 16 converts had become Christians of their own free will when a mob of Hindu extremists arrived at the court, accused him of forcible conversion and had him arrested. He was released on bail after a week.
The extremists also went to the converts' homes and threatened to expel them from the area if they did not recant their faith.
Pastor Maleywar has worked as an evangelist with the Church of North India (CNI) for 17 years and has led St Thomas Church in Mulhera for five years. Two of the 16 converts belong to St Thomas Church and 14 belong to Epiphany Church in Khatauli, both of which are in the CNI Diocese of Agra.
The pastor was visiting a lawyer at Sardhana lower court near the city of Meerut to secure notarisations of affidavits for baptisms when, according to local sources, someone at the court informed the extremists.
Members of Bajrang Dal, the youth wing of the Hindu extremist organisation Vishwa Hindu Parishad, arrived at the court, surrounded Pastor Maleywar and interrogated him about the affidavits. They manhandled him, checked his bag, grabbed the affidavits and accused him of forcible and fraudulent conversion. The Times of India reported that "Scores of Bajrang Dal activists on Monday attacked and thrashed a Christian pastor."
Officers from the adjacent police station arrested Pastor Maleywar under Section 151 of the Code of Criminal Procedure, "arrest to prevent the commission of cognisable offence" and transferred him to Abdullapur jail in Meerut, 23 km away. He was charged with "insult with intent to provoke breach of the peace" and sentenced to 14 days in prison.
The pastor's son Rohin Maleywar (30) told Morning Star News, "They confiscated my father's cell phone and all the affidavits – he could not even contact us."
The lawyer whom the pastor was visiting was also arrested, but was soon let go because of protests from other lawyers.
On 20 June, the Sub-Divisional Magistrate rejected Pastor Maleywar's bail petition. His lawyer Reena Luka told Morning Star News, "Local politicians created a ruckus in the courtroom. The judge said if he granted Maleywar bail, the peace of the area would be compromised." She said the judge told them to wait a few days until tensions cooled. The pastor was released on bail on 25 June.
Affidavits 
With Indian states increasingly passing anti-conversion legislation, some churches require converts to sign affidavits in which they declare that they have chosen to follow Christ of their own free will, want to be baptised and are not being coerced or offered inducements.
Uttar Pradesh does not have anti-conversion laws in place and affidavits are not legally required, but Bishop Prem Prakash Habil of the CNI Diocese of Agra said church leaders request them to avoid accusations of forced conversion. He told Morning Star News, "We always follow this procedure; they have to submit a hand-written application in their own writing, verification papers and an affidavit if they want to become a member of the church and receive baptism."
The bishop said candidates for baptism usually file affidavits themselves, but not this time. He explained, "The way my evangelist was working was not the right way – it was [supposed to be] the work of the individuals who believed to get their own paperwork done and then submit it to their respective churches."
Families intimidated
Pastor Nirmal Jacob (39) of Ephiphany Church, who has ministered with CNI for 14 years, said members of Bajrang Dal were putting severe pressure on all the families. He reported: "The head of the village, along with Bajrang Dal members, went to the homes of these believers and threatened them with dire consequences. They said that they would be boycotted from the village, asked to leave, their educational certificates would be confiscated and their entitlement to government benefits would be withdrawn if they profess their faith in Jesus Christ."
Pastor Jacob said local and national television crews visited him in Khatauli on 20 June, along with local police, and interviewed him and many families from his church. He said the Christians testified that God had healed them from many serious illnesses, but none of their testimonies was broadcast and their interviews were edited to change the meaning and show them only saying that they had been Hindus.
Pastor Jacob has been receiving threatening calls, and commented, "I do not know where to find help in a situation like this. The police, media and judiciary are biased; I do not feel safe any longer."
(Asia News/Morning Star News/Times of India/World Watch Monitor)
Share this