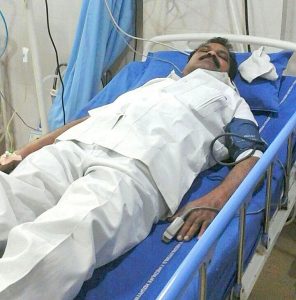 Pastor Gandham Padma Rao (49) is in intensive care in hospital in Mancherial, Telangana state after being beaten by a gang of ten Hindu extremists.
The attack took place on Friday 27 January after Pastor Rao had left the home of an elderly church member who had just been released from hospital. At about 9:30 pm he was walking to his car when ten young men blocked his way with their motorbikes.
When the pastor ignored them and began walking on the other side of the road, one of the attackers shouted, "Why are you coming to our village? Why are you praying here?" as four others began hitting him, knocking him to the ground, relatives said.
Pastor Rao and eyewitnesses said the youths were members of the Hindu nationalist group Vishwa Hindu Vahini (known for its involvement in violent attacks).
"They spoke to me in vulgar language: 'You must never come to our village to pray. You should never enter our village,'" Pastor Rao said.
Two of the attackers held him while the others punched and kicked him, he said. "I could not balance myself and fell in a pit nearby. They picked me up, threw me on the road and started battering me again. I tried hard to regain my strength and run, but they followed me quickly, held my collar, pushed me off with their feet. When I fell down again, they began kicking and beating me again."
Local residents heard his cries and came out of their homes, including a member of his church who came running and cried out for help.
Police alter pastor's statement
A First Information Report was filed at the local police station, but police removed references to the Hindu nationalist group from Pastor Rao's statement and described the attackers only as drunks, his son said.
In response to enquiries, Police Sub-Inspector P. Chandra Kumar said the suspects were young men in police custody. "The investigation is not yet completed," he said. "Yes, it is true that the pastor was beaten and the attackers were all youngsters in between ages 24 and 27." He declined to reveal the identity of the attackers, but sources named the primary suspect, Chandragiri Shiva Prasad, who was in custody.
Pastor Rao drove back to his home in Ramakrishnapuram, where he conducted a baptism ceremony at his church the next day. The following day (29 January), he took painkillers and carried out duties at his church's Sunday service, but later that afternoon he felt light-headed and was taken to hospital, where he was put in the Intensive Care Unit. The doctor treating him said, "The patient complained of pain. Immediately after we heard about the assault, we sent for more tests. His pains will last for a few weeks." Doctors told family members that his blood pressure was so high that he could have suffered a haemorrhage had he waited any longer to attend hospital.
The attack on Pastor Rao took place less than a week after evangelist Dr K.A. Swamy (47) suffered a brain haemorrhage after being threatened by Hindu extremists while he was distributing Bibles in the city of Hyderabad.
Government dismisses criticism about escalation of hate crimes
On 9 February, an Indian government spokesman dismissed the latest report into religious freedom in India.  The new report from the US Commission on International Religious Freedom (USCIRF) stated that there was an escalation of hate crimes against minorities in the country.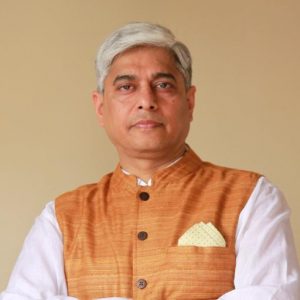 Mr Vikas Swarup, External Affairs Ministry spokesman (pictured), said, "We have rejected the USCIRF Annual Reports in the past as well. We have serious doubts about their credibility. Government does not see the locus standi of a foreign entity like USCIRF to pronounce on the state of Indian citizens' constitutionally protected rights. We take no cognisance of their report."
The USCIRF report stated that religious minority communities and Dalits face discrimination and persecution in India, where hate crimes, social boycotts and forced conversions have escalated dramatically since 2014. It asked the US to put human rights at the heart of trade and diplomatic interactions with India.
"India is a religiously diverse and democratic society with a constitution that provides legal equality for its citizens irrespective of their religion and prohibits religion-based discrimination," said USCIRF chair Thomas J Reese. "However, the reality is far different. In fact, India's pluralistic tradition faces serious challenges in a number of its states. During the past few years, religious tolerance has deteriorated and religious freedom violations have increased in some areas of India. To reverse this negative trajectory, the Indian and state governments must align theirs laws with both the country's constitutional commitments and international human rights standards."
(Morning Star News, Press Trust of India)
Share this