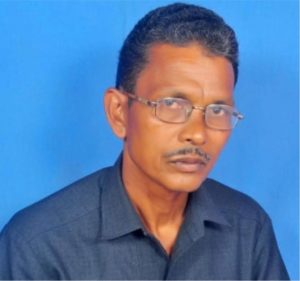 Pastor Yalam Sankar Timothy (58) was murdered in Anganpalliguda village in Chhattisgarh state's Bijapur district on 17 March.
The pastor was at home eating dinner at 8.30 pm when six armed men broke into his house and dragged him outside. They shouted abuse at him, beat him, insulted his Christian faith and bound his arms behind his back with rope, then forced him to kneel down and killed him with two gun shots to the chest before slicing his neck open from behind. The murderers then left, but one returned thirty seconds later and stabbed the pastor in the heart to make sure he was dead.
The attack was witnessed by the pastor's terrified daughter-in-law and other local people but they were not able to identify the killers, who were masked. Local police registered a murder case but stated that they have no clues to help identify the assassins.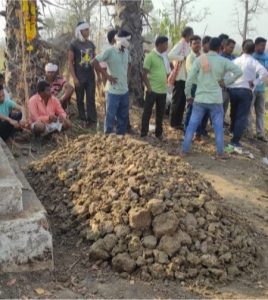 The pastor's body was sent for post-mortem examination and was then handed back to his family for burial (pictured). His funeral took place on 18 March and was attended by a huge crowd of over one thousand people.
Pastor Timothy was senior pastor of the Bastar for Christ Church in Anganpalliguda, where he had led services for the past five years as well as preaching the gospel to remote tribal villagers. Twenty junior pastors worked under him in Bijapur District.
He was known for his pastoral care, which included biblical counselling, and was responsible for several shelters for poor villagers. Since December 2021, he had been running a food programme for deprived families. A former sarpanch (leader of village government), Pastor Timothy was reportedly very influential and was known to defend Christians from radical Hindu nationalists.
The Bastar for Christ Mission began in 2005 and since then approximately forty small churches have been planted throughout an area of over one hundred villages. The success of the mission has resulted in many pastors being threatened with death and violence.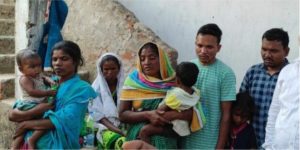 Pastor Timothy is survived by his wife (centre of photo), two sons (beside her) and grandchildren. The daughter-in-law who witnessed the incident is on the left of the photo.
Who was responsible?
Pastor Timothy's daughter-in-law told the British Asian Christian Association (BACA), "The men were unknown but seemed to know who my father [in law] was. Father did nothing wrong, he had no enemies except from local Hindu extremists who hated his evangelism work. I was forced to watch him being killed – I felt totally powerless. Every time I think of what happened I fill up with grief and pain. This attack was premeditated and has created fear amongst all local Christians. Local police have no leads and the cruel murderers and those who instructed them will escape justice."
Local Christians told International Christian Concern that two days before the murder, local radical Hindu nationalists threatened to kill the pastor if he continued to preach the Christian faith. One Christian, who wished to remain anonymous, said: "The Christians in this area have been facing intense opposition from the radical Hindu nationalists. Several times Pastor [Timothy] defended Christians from radical Hindu nationalists, and that could be the reason for this extreme form of persecution of killing."
Indian news sources, however, said the pastor was killed by Naxalites on suspicion of being a police informer. Naxalites or Naxals are far-left Indian Maoist revolutionaries who comprise a breakaway group from the Communist Party of India (which is Marxist).
A local police official said a handwritten note was found at the murder site in which a local Maoist committee claimed responsibility and accused the victim of being a police informer. The official added that the pastor had no association with the police.
While the identity of the killers is still uncertain, what is certain is that Pastor Timothy had been threatened by Hindu extremists and by Naxalites. BACA explained that Naxalites were concerned that the pastor was "giving strength to communities they were oppressing and extorting to raise funds for their paramilitary group" and that groups affiliated with right-wing paramilitary Hindu group the Rashtriya Swayamsevak Sangh (RSS) "hated him [for] his gifted preaching that had been a massive tool for evangelism".
BACA's Operations Manager for India Dr Vuchula stated, "We have been informed that Naxalites and various Hindu fascist groups warned Pastor Timothy to stop church services and stop preaching in the local remote forest villages. He was told that if he did not stop he would be killed. Hindutva (Hindu nationalist) leaders hated Pastor Timothy because of the large number of Hindus finding salvation… The killers wore masks on their faces and cannot be identified by anyone. People were too scared to come out of their village homes after the shooting so they did not see anything. It is hard to know who killed Pastor Timothy as both groups were targeting him and the churches he was shepherding."
(British Asian Christian Association, International Christian Concern, The Print)
Share this