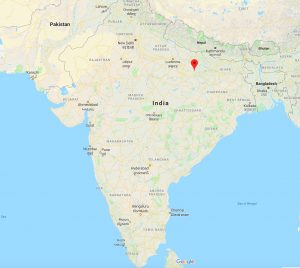 Police in Uttar Pradesh have charged 271 members of a large Pentecostal church with "spreading lies about Hinduism and drugging people to try and convert them to Christianity". Police dismissed an initial investigation clearing the Christians in Bhulandih village (location shown by red pointer on map), of any wrongdoing.
Police filed charges on 5 September after being directed to do so by a local court, following a complaint by activist group Hindu Jagran Manch that Christians were propagating misinformation about Hinduism and attempting to convert people. Three pastors were named on the charge sheet: Durga Prasad Yadav, Kirit Rai and Jitendra Ram, leaders of the 7,000-member Jivan Jyoti Satsang Prarthana Kendra church in Bhulandih village, Jaunpur District.
The Indian Express newspaper quoted the activist group's lawyer Brijesh Singh as saying that the Christians gave prohibited medicine and drugs to visitors to convert them while they were under the influence. Local pastor A. Anil said the allegations were "absolutely false and baseless".
Shibu Thomas, founder of Persecution Relief, told ucanews.com that hard-line Hindu activists had been threatening the pastors and congregation against holding prayer meetings, which were attracting crowds of people. He said, "The allegation of drugging people to convert people to Christianity is absurd – no one would do such a thing in Christianity."
Deep Gupta, editor-in-chief of National TV News said he interviewed 500 of the 7,000 worshippers about the allegations. He told Morning Star News, "As many as I interviewed had stories to share about their sickness and how they got healed after Pastor Yadav prayed for them. They said that they attended the church out of their own free will, and that they were not subjected to any force or allurement. They said that despite threats, they will continue to attend church."
Report denied
An initial inquiry into the charges filed by Hindu nationalists took place on 5 August, when the chief magistrate ordered Chandwak police to investigate allegations of conversion by fraudulent means and hurting religious feelings. The nationalists said the Christians "have been going about in Jaunpur and four other districts preaching against Sanatan (eternal) religion, i.e. Hinduism, alluring the poor and the downtrodden with money and converting them to Christianity".
On 7 August, police officer Mahendra Kumar Yadav submitted a report clearing the Christians, and police told Pastor Durga Prasad Yadav (45) that they had found no evidence of fraudulent conversion.
However, Hindu extremists put pressure on the police and they now are now denying that an investigation took place. Asked about the initial investigation, Station Head Officer Shashichand Chaudhary told Morning Star News "no investigations were made".
Attacked on the way to church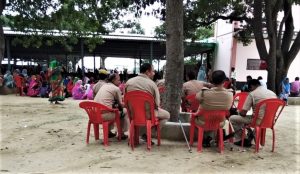 In early August, extremists tried to stop the Christians attending worship services at the church in Bhulandih.
Members of Hindu extremist youth group Hindu Yuva Vahini, founded in 2002 by current Chief Minister of Uttar Pradesh Yogi Adityanath, sought police permission to gather at the church site on 5 August. Police denied their request but, anticipating an attack, deployed a large force at the village from 10 am to 2 pm – the photo shows police waiting at the church in anticipation of an extremist attack. As Pastor Yadav was in Allahabad that day, his daughter Preeti Yadav (21) led the service.
Pastor Yadav told Morning Star News that the extremists threatened the Christians, beat the drivers of three-wheeled vehicles going in the direction of the church and broke the vehicles. "Despite threats, people still came," he said. "Commuters who were asked to leave the public transport walked as much as four kilometres to come to church, and this went on for two weeks."
Deep Gupta of National TV News told Morning Star News, "I had placed hidden cameras all over the place. About 10-15 of them were stopping the three-wheelers going towards the church filled with people. They broke the vehicles and threatened the drivers to not carry passengers to church. The people were made to leave the transport."
The extremists also mounted a media campaign in which they slandered the Christians.
June 2017 police attack
Pastor Yadav says Hindu extremists continue to threaten him nearly every other week, and he has described a police attack in June 2017 that left him injured and frightened. The pastor said two policemen came to his house one morning and took him to the police station, where the sub-divisional magistrate questioned and beat him.
"He screamed and shouted at me, blaming me that I would convert the whole of Uttar Pradesh into Christianity," Pastor Yadav told Morning Star News. "He asked me to leave the state and go somewhere else. Whatever answer I gave, he would hit me with a patta [police belt]… Before the policemen could begin the formalities of registering a case against me, some members of my church reached the police station enquiring about me. My well-wishers called the police station questioning my detention. Pressure was built, and the station house officer decided to let me go without registering any case against me."
Following the incident, he said: "I wept bitterly one day and asked God if I should leave all of this and go away." Looking for an answer, the pastor opened the Bible at the Book of Jonah. He explained, "God spoke to me through it, telling me that neither the waves of the sea, nor the stomach of the fish could kill Jonah. God wanted him to remain alive to go to Nineveh, and so he did. I got this assurance that no one can kill me until the Lord allows. And when the day comes for me to go, I will be more than happy, as, 'For to me, to live is Christ, and to die is gain [Philippians 1v21].'"
(Morning Star News/Persecution Relief/UCA News)
Share this