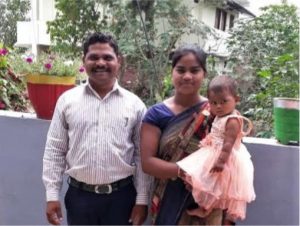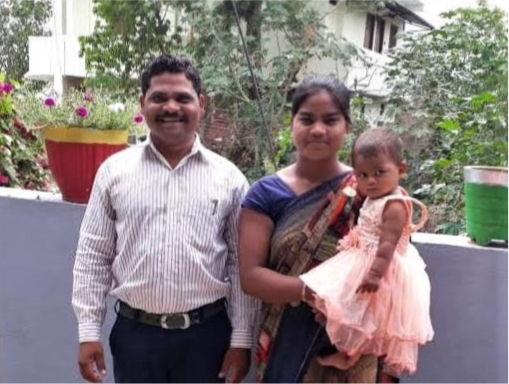 Pastor Manu Damor (35) has been held in Depalpur prison in the Indore district of Madhya Pradesh state since Easter Sunday (4 April).
UPDATE: Pastor Manu was released on bail on Tuesday 4 May.
He and his wife Asha and their three young children had been rescued by police from Hindu militants who attacked them while Pastor Manu was leading an Easter worship service for five families at a Christian's home in Rangwasa village.
The attack came at the end of the service when a mob of over three hundred villagers surrounded the house and demanded that Pastor Manu be handed over to them. Some of the attackers tried to break the door to get into the house and another group of attackers broke the door into a room where the Christians were taking refuge, while others climbed onto the roof and began to dismantle the metal sheet above the room.
The Hindu extremists shouted many obscenities at the Christians and threatened them saying, "We will kill you and send your dead bodies from here". Asha recalled: "We were very scared and called the police. We requested them to come fast, as the agitated mob was making their way from every side. It was a very scary sight. We prayed for God to send help… The people on the roof had also managed to open a portion of the roof and were about to jump inside our room, when the police arrived and took us to the local police station. We were so grateful to the Lord and thanked Him for sending the police in time and saving us."
Charged after Hindu extremists poured into police station
Though local police had assured Pastor Manu and his wife that they would be allowed to go home the following morning, they were instead charged with serious crimes and sent to two separate jails. Their young children went to stay with other family members. "The police initially detained us to safeguard us from being killed by the mob," Asha said. "However, the tables turned after large crowds of Hindu extremists and influential political people began to pour into the police station in the late evening of our detention.
"We were not informed that someone had made a formal complaint and that an FIR [First Information Report] had been registered against us. We were not interrogated by the police. We were shocked when the FIR was read before the magistrate, which stated that we had allured a woman named Leela Bai and committed to pay her 3,000 rupees [€34] every month if she agreed to convert to Christianity."
Asha said she had never visited or spoken to Leela Bai and added, "We do not know how they persuaded the police and convinced them to book us under such a stringent law". Pastor Manu and Asha were charged under the Madhya Pradesh Freedom of Religion Ordinance, which prohibits "unlawful conversion from one religion to other religions" and under the Indian Penal Code's Section 294 for "obscene act/song in public place".
Asha was put in a cell with 23 other women prisoners. Knowing a pandemic lockdown would begin in Madhya Pradesh state on the evening of 12 April, she prayed for bail and praised God that she was released that day and re-united with her children: "I had never left my children alone, and my children had never lived without me. It was traumatising for them to stay without me for a week. After my release I was told that my 18-month-old would often cry and trouble the relatives a lot. Even the older children missed me so much that they stopped taking food."
However Pastor Manu remains in prison, having been refused bail. Pastor Bachubhai Bhabor, senior pastor of the church where Pastor Manu ministers, said he was deeply concerned about the harassment and case delays. "What worries me is that Pastor Manu is still inside the jail," he said. "He is suffering for no fault of his. He has been falsely implicated, and the police have joined hands with the accusers. Instead of taking action against the attackers, the police have booked an innocent couple, and this is causing them great harassment."
New anti-conversion laws in Madhya Pradesh
On 8 March, the new Madhya Pradesh Freedom of Religion Act 2021 was introduced, replacing previous legislation and making it the state with the harshest anti-conversion laws in India.
William Stark of International Christian Concern commented, "Across Madhya Pradesh ICC has documented numerous cases of anti-Christian attacks being justified by unsubstantiated claims of forced conversions. If this continues, radical Hindu nationalists will know they have absolute impunity to harass Christians and close down their places of worship."
New anti-conversion laws have also been introduced in several other Indian states in recent months, and Hindu militants are using the laws to justify attacks on Christians.
(Morning Star News)
Share this