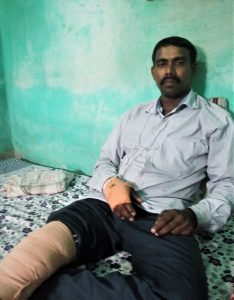 Pastor Shelton Viswanathan from Sheohar District in Bihar State has said that local police said they could take no action after he was recently badly beaten by Hindu extremists.
The 46-year-old pastor was distributing gospel tracts in Sheohar District on 23 June when he was attacked. His attackers – members of the Bajrang Dal, youth wing of the Hindu extremist Vishwa Hindu Parishad (World Hindu Council) – were dressed in saffron clothes and had been following him.
"I slowed down my scooter, moved it to the other end of the road and pulled away, but they pushed me with such great force that I fell on the road," he said. "They were eight men on four motorcycles. One of them clasped me from behind my neck and started beating me." Pastor Viswanathan received treatment for his injuries five days later at a local health centre. "The doctors said that my hand and foot have been fractured. I'm trying to limp about, but there is a pain in my injured knee, and I can't stand straight without support."
The assailants shot video of him on their phones and warned him not to enter villages in Sheohar District, he said. "They also placed a Bajrang Dal sticker on my scooter," he said. "As the passersby gathered to lift me, they ran away on their bikes."
Pastor Viswanathan leads a congregation of 18 people at a local house church. "After the attack, some of my Christian friends went to Sheohar police station to inform them about the attack," he said. "But the police said their hands are tied and that they cannot take any action."
Trend of police bias
Violence against Christians in Bihar state, in northeast India, bordering Nepal and Bangladesh, has increased in the past two years. Devesh Lal of the Bihar Pastors Fellowship said "The Hindutva [Hindu nationalist] extremists are walking into churches and are disrupting prayer services – on a weekly basis, we hear of threats and attacks on home churches and pastors. Christian persecution is widely spread across Bihar, and it appears to be a much planned, systematic opposition created to target activities. Many of those attacked choose not to call police, as officers are often complicit in Hindu extremist aggression. We also see police supporting the perpetrators instead of taking action against them, and the victims do not come forward fearing this bias."
(Morning Star News)
There were over 300 attacks on churches and individual Christians in India during 2018 and Church in Chains partner Persecution Relief noted that Bihar was the third most hostile among India's 29 states.
Share this