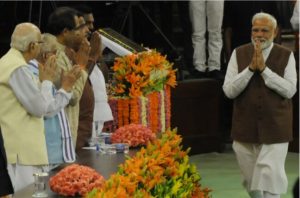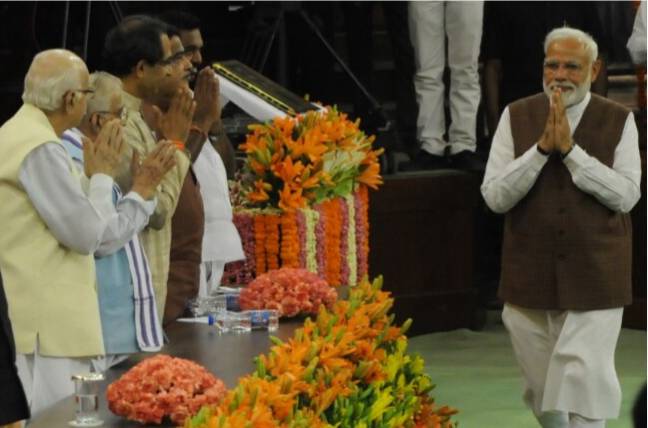 On 25 May in his first speech to parliament following his re-election, Prime Minister Narendra Modi asked his MPs to reach out to the country's minorities. Two days prior his ruling BJP party had achieved a landslide victory in the Indian general elections.
In his address Modi asked the members of the BJP-led National Democratic Alliance to "work in the government without discriminating against anyone and win the trust of minorities". However, he maintained that the minorities had been deceived by the opposition for generations and had been living in "imaginary fear".
Modi promised that his government would begin "a new journey to build a new India with new energy" and that its mantra should be "with all, for everybody's development and having everyone's trust".
However, minority communities in India, including Christians, Muslims, and Dalits, have expressed concern regarding their security following the electoral victory of the BJP and Modi. These communities fear that the levels of Hindu nationalist and religious intolerance will continue to rise as they did during Modi's first term. Since the BJP came to power in 2014, attacks on religious minorities across India have increased dramatically. Now India's Christians are expecting that the existing anti-conversion laws will be implemented more rigorously and across more states and that impunity for Hindu radicals will become the norm.
Christian Reaction
In an interview with Open Doors, an Indian church leader said: "Now that the ruling party comes in again, Christians might have very difficult times. It will be difficult for the churches to function. There will be more violence against Christians. The BJP is a pro-Hindu party and is polarising the minds of Indians on the ground of religion, spreading communal disharmony. It rouses religious intolerance, promoting Hinduism, crowning it as the only religion in India and belittling Christians and Muslims as intruders."
Vijayesh Lal, General Secretary of Evangelical Fellowship of India, told International Christian Concern, "The situation for minorities in India will not improve because the damage has already been done at the grass roots level. India has been successfully polarized along religious and ethnic lines. The return of Mr. Modi will likely result in greater impunity for those who attack and malign religious minorities."
Ongoing Persecution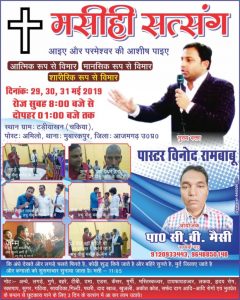 There are many recent examples of ongoing persecution of Christians across the country. On 29 May, a Gospel event was stopped in Azamgarh, Utter Pradesh and the pastor and organisers were arrested by local police officers who interrupted the meeting, which was held in a field, and demanded that it be stopped. When Pastor C. B. Masih, Philip Christy and the other organisers objected to this demand, they were ordered to come to Mubarakpur police station, where a huge mob had gathered to protest against Christian conversion activities. Other Christian leaders came to the police station to protest that it was within their constitutional right as Indian citizens to hold such an event and not illegal. After nearly five hours of negotiations with the police, Pastor Masih, Mr Christy and the others were all released without charge.
On 25 May a Bible stall run by the Gideons International was shut down at a ten-day mela (fair in Sanskrit) in Shahid Smarak, Madhya Pradesh. The Gideons had rented a stall for 19-29 May to distribute New Testaments, but after a complaint was made against them, they were forced to wind down their stall early. The area director of the Gideons, John Barel, tried to explain to the organisers of the fair that Bibles were only given to people who requested one and that it was not a crime. Regardless, the organisers asked them to leave immediately, fearing reprisals from religious fanatics.
In 2018, Church in Chain's partner Persecution Relief recorded more than 477 hate crimes against Christians in India. In 2019, 157 incidents were recorded up to the end of April.
(India Today/International Christian Concern/Open Doors/Persecution Relief)
Share this