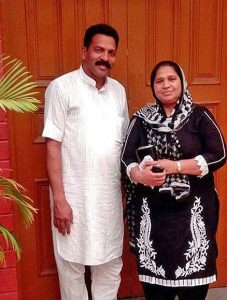 On Saturday 15 July, Pastor Sultan Masih (50) was shot dead in front of his church premises in Ludhiana, the largest city in northern India's Punjab state. District CCTV footage recovered by police showed two attackers on a motorbike shooting him while he talked on his phone, but a police spokesman said it was too dark to make out their faces.
Sultan Masih had been pastor of Temple of God Church for twenty years and also ran a school for the poor. He leaves a wife (Sarabjit, pictured with him) and four children.
One of the pastor's sons, Anoop Masih, discovered the body. The pastor's youngest brother Raj Kamal Masih told Morning Star News: "Anoop Masih heard the noise of shooting and came out of his room on the first floor. Seeing his dad lying on the road, he screamed and alerted everyone in the church building."
Another son, Alisha Masih, who is training to be a pastor, said: "Our father was a courageous man and he was never afraid to die for Jesus. He has put the same zeal in us. Our family will continue to serve God."
Attack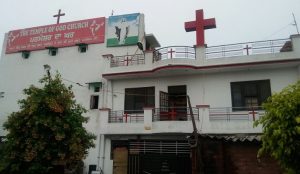 Every Saturday, the pastor left the church building at about 8.30 after finishing his preparations for the Sunday service. On 15 July, he left at about 8.45 pm and went outside the church gate, talking on his phone. Two attackers approached on one motorbike, paused beside the pastor for the pillion passenger to shoot him, and rode away.
Doctors at Dayanand Medical College, where Pastor Masih was taken after he was shot, reported that he received three bullets: one in his chest, one close to the neck and chest and another on his cheek close to the ear. Local police said a special investigation team had been formed and the body had been sent for autopsy.
On 16 July, Punjab Chief Minister Amarinder Singh expressed "shock and pain" at the killing and assured the Masih family of government help. He reportedly promised 500,000 rupees (€6,636) to Pastor Masih's widow and a job in the police department to one of his sons. The Chief Minister said he was ordering state law enforcement to track down the assailants.
Hundreds of Christians took to the streets on 16 July, blocking off a major national highway (the road to Jalandhar) for three hours, and only leaving once they had received assurances from the police that the perpetrators would be brought to justice. In the days that followed, police questioned at least 17 suspects they detained in raids in several districts of Ludhiana and beyond, as well as near the church building.
Threats
Family members believe the attack was premeditated and that the attackers called Pastor Masih's phone and told him to go outside. Two months earlier, Hindu extremists had taken offence at a gospel event celebrating the church's 25th anniversary, and had threatened Pastor Masih.
Pastor Vishnu Dev, a close friend of Pastor Masih, said that there had been no major opposition to the pastor until he "took a bold step" and led gospel meetings celebrating the 25th anniversary of his church's founding, which he invited local churches to attend. Pastor Dev told Morning Star News that the pastor had told him he was facing growing opposition: "He and his family are serving Christ for decades and they are at peace with everyone. But four days before he was shot, I met him and he told me, 'Please pray for us, as we continue standing for Christ, many enemies are standing up against us. Please pray for us.'"
Another church leader, Pastor Balwinder Kumar, said representatives of Hindu extremist group Rashtriya Swayamsevak Sangh (RSS) objected to the anniversary event: "RSS activists arrived there and started accusing the pastor of forced conversions. They came to him to quarrel twice after the event, too."
He said the extremists filmed Pastor Masih while they accused him of paying people to convert to Christianity. "The feud was not so very serious that he had to be killed like this," he said. "The RSS activists accused him that, 'You Christians get paid for converting people. How much do you pay the converted?' They were stiff and were not listening when Pastor Masih tried to explain it is not true." He said there was no fight and the RSS members went away.
Pastor Masih's son Alisha said his father had received threats from unknown sources via WhatsApp and Facebook that if he continued to preach he would be killed. He said that following the anniversary celebration in May, a group of men approached his father and asked him where he got the money to pay for the function (about 800 people attended) and whether he would give them something if they converted to Christianity. Alisha said his father told them he would not give them anything and that those who had converted did so only because they had come to believe in Jesus.
Rise in attacks on Indian Christians
Open Doors reports that hundreds of Christians have been caught up in attacks this year, and Release International states: "Attacks against Christians in India have been rising at an alarming rate, according to new reports. They describe an upswing in politically motivated attacks since the March 2017 elections, which saw a landslide victory for Hindu nationalists."
The latest report of the All India Christian Council records an increase of almost 20 per cent in attacks against Christians in 2016. It says physical violence against Christians is up 40 per cent and murders have doubled. The report, Atrocities on Christians in India, says: "The attacks have become severe and more frequent. Incidents used to be confined to a few states. Now the violence has spread to 23 states." The AICC logged 108 incidents in just the first six months of 2016.
In states across India, Hindu extremists beat, threatened and killed church workers and tried to force Christians to renounce their faith and convert to Hinduism. Extremists disrupted church services and prayer meetings, tore up Bibles and burned them, and bombed, torched, vandalised and demolished Christian schools.
(All India Christian Council, Christian Messenger, Morning Star News, Open Doors, Release International, World Watch Monitor)
Share this