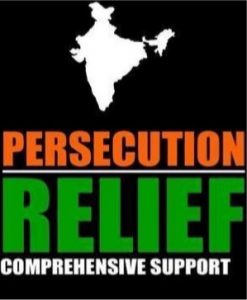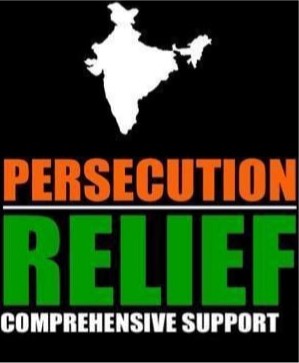 Church in Chains partner organisation Persecution Relief has published its annual report for 2019, which shows that the number of hate crimes against Christians in India rose again to a new annual high of 527 reported incidents. Persecution Relief documented 447 cases in 2018, 440 cases in 2017 and 330 cases in 2016.
In 2019, the state of Uttar Pradesh ranked highest for the third year in a row, with 109 cases of hate crimes against Christians. Other high-scoring states were Tamil Nadu (75), Karnataka (32), Maharashtra (31) and Bihar (30). Threats, harassment and intimidation were the most common forms of persecution (199 cases) followed by church attacks (104) and physical violence (85). Seventeen church buildings were burnt and four Christians were murdered.
In many cases, a single incident resulted in widespread suffering – each church attack, for instance, affects multiple individuals. The number of incidents recorded is probably far less than the number that occurred, for reasons including the fear of reprisals and the perception of police inaction.
Attacks on Christians increased followed the 2014 landslide victory of Narendra Modi's Hindu nationalist Bharatiya Janata Party (BJP). Prime Minister Modi and the BJP were returned to office in May 2019, and Hindu extremist attacks have continued unabated into 2020.
2020 begins with brutal beating
The year began with an attack on a house church in Bichpari village, Haryana state in northern India. On 5 January, house church pastor Jai Singh was brutally beaten by Hindu extremists who accused him of bribing people to convert to Christianity and left him covered in blood and howling in pain.
The attack began on 5 January when a mob of between 250 and 300 Hindu extremists surrounded the home of Naresh Singh, where Pastor Singh was leading a meeting. About thirty extremists burst into the house and began shouting abuse at the worshippers. Several women tried to stop them from attacking Pastor Singh but they and their children were pushed away and injured, and the attackers beat Pastor Singh and Naresh Singh.
"They pushed me to the floor, and I could not understand who was kicking me, who was slapping or beating on my back," Pastor Singh told Morning Star News. "As a huge crowd surrounded me, I could only see their hands and shoes kicking me. They picked me up from the floor and… told me that I should go with them, if not they would kill me there on the spot."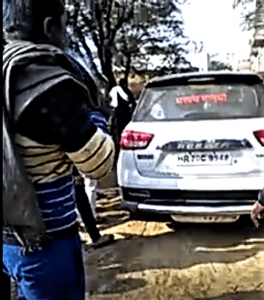 The mob dragged Pastor Singh out to a car (pictured) and drove him away to a school, where groups of six took turns to beat him. "My eyes got swollen. There was severe bleeding from my forehead," he said. "The remaining members who were following us by motorbikes and other vehicles also reached the school, and they took turns to beat me. A batch of six assailants would beat me up at once, after that they would sit back and relax while the next batch of five to six continued the beating. I was howling in severe pain, and I do not remember for how long that continued."
The pastor said the attackers tried without success to force him to admit to bribing Hindus to convert. He said he would never offer people money to convert.
"From the school, they took me to a Hindu temple and forced me to sit before the idols," he told Morning Star News. "They had beaten up my legs with wooden sticks and pulled my legs apart." His Kameez (a long, white tunic) was soaked in blood from the beatings. "They forcefully undressed me and threw my Kameez away," he continued. "It was evening by the time they dropped me at Gohana police station. I was severely bruised and was howling in pain."
Police took Pastor Singh to hospital, where he received an injection, and then returned him to the police station, where an inspector registered a First Information Report (FIR) against him, Naresh Singh, Pastor Ram Kishan of the mother church in nearby Siwanka (where an extremist attack was thwarted at Christmas) and several other Christians, based on a complaint by a Bichpari resident identified only as Ramesh. The FIR falsely accused them of offering money to Hindus to lure them to convert to Christianity.
The following day, the pastor appeared before a judge and was jailed. A lawyer with legal advocacy group Alliance Defending Freedom-India filed a petition for bail, and he was released on 7 January.
After his release, the pastor said, "Even inside the jail, I was very afraid that I might have seizures – I was under medication, and the jail authorities did not allow me to take my medicines. Now I'm in a very bad state. I can't sit or stand or lie down straight on my back for five minutes. The marks of beatings are still all over my body. My legs feel very heavy and stiff, so that I can't even stand on my feet."
Describing Pastor Singh's injuries, Vinod Kumar, son of Pastor Ram Kishan of the mother church in Siwanka, said: "He is not able to sit or stand or walk as of now. It seems there are internal injuries that would take time to heal. There was a crack in Pastor Singh's right leg, and by God's grace it is healing." A Christian organisation has paid for him to receive treatment at a hospital in Delhi.
As well as serving as a pastor in the local house church, the father of four works as a day labourer and struggles to provide for his family. "Earlier there was good strength of believers in Bichpari, but now they are very scared and backslidden due to the rising opposition," he said, adding that only three families now attend worship services. "I was doing the Lord's work and also was working very hard to earn some money to feed my children. Now I have been made as fit for nothing."
Naresh Singh ran a shop in Bichpari selling boiled eggs, but after the attack the owner of the shop called and told him to vacate the premises immediately. "It was the only source of livelihood for my family," he said. "In the shops, the villagers refuse to sell us daily necessities. We have been socially ostracised." He filed a police complaint and officers registered an FIR against over two hundred people, but no action was taken.
(Morning Star News/Persecution Relief)
Share this