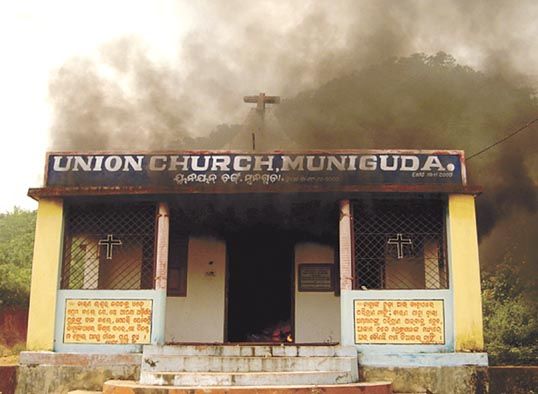 Twelve people have been sentenced to six years' imprisonment for their involvement in the violence in Orissa's Kandhamal district in 2008.
The twelve defendents were sentenced on 27 November in a fast-track court, and the judge also fined them 5,000 rupees (about €70) for rioting and torching houses in Jarkinaju village on 25 August 2008. (Jarkinaju is in Kandhamal district, in the eastern state of Orissa.) The court ordered that non-payment of the fine would result in an additional one-year jail term. Ten others who had been accused in the case were acquitted due to lack of evidence.
Communal violence against Christians in Kandhamal district had begun in December 2007, but it intensified in August 2008, following the assassination of local leader of the Vishwa Hindu Parishad (World Hindu Council) Swami Lakshmananda Saraswati and four of his followers. They were killed by Maoist insurgents, but Christians were blamed and targeted by Hindu extremists, in the worst outbreak of anti-Christian violence in India. At least 100 Christians were killed, 18,000 injured and over 52,000 made homeless.
The overwhelming majority of cases relating to the 2008 violence have been dismissed or have resulted in acquittals, including many murder cases. Human rights activists working in the area have continually criticised flaws in the delivery of justice.
Dr John Dayal, a member of the Indian Government's National Integration Council, who has visited Kandhamal regularly, said: "Justice must be done, and must be seen to be done. The aggregate of justice in the fast-track courts in Kandhamal does not inspire a sense of confidence and closure among the victims. Many killers are roaming free, and a member of the Legislative Assembly is at large after his conviction, because the courts seem to think he is too important to be incarcerated."
David Griffiths, Christian Solidarity Worldwide's South Asia Team Leader, said: "Any convictions in Kandhamal mark a step forward, and credit must also be given to the human rights defenders providing essential legal aid to victims and witnesses. However, we continue to urge the state administration in Orissa to fight against the prevailing impunity, because the victims deserve justice, and because the rule of law is the essential foundation for peace."
Background
The violence began in Kandhamal district in 2007 when Hindu protesters demanded that a Christmas decorative arch put across the road by Christians be removed even though official permission had been given for the structure. When the Christians refused to remove the arch, violence swiftly followed – at least 15 Christians were killed and 730 houses and 95 churches were burnt down. Hundreds of displaced Christians took shelter in relief camps set up by the state government. Tensions remained high and the second major wave of violence, in August 2008, lasted for several weeks.
The Orissa state government, led by the Hindu nationalist Bharatiya Janata Party, was widely criticised for inaction to stop the violence and the Indian federal government had to intervene to restore order. Many Christians ended up living in refugee camps for months or even years afterwards. Some victims are still living in dire poverty. The Orissa state government structure is weak in the Kandhamal area and has outsourced some of its welfare services to Hindu nationalist groups, which are refusing to administer aid to Christians unless they convert to Hinduism.
In October 2012, India's Supreme Court demanded that the prime minister of Orissa account for the numerous acquittals related to the violence. Until then, of 185 trials, only 64 had resulted in convictions, all for minor offences; nobody had been sentenced for murder, rape, looting or arson. (Christian Solidarity Worldwide, Press Trust of India)
Share this