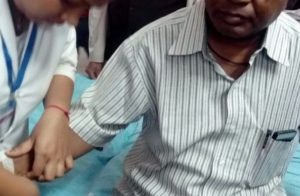 Two separate groups of carol singers have been attacked by suspected Hindu radicals.
On 15 December, thirty Christians singing carols in Sarangi village, Madhya Pradesh state, central India, were attacked by suspected Hindu radicals. The Christians had gathered in a private home and were singing at 3 pm when a mob of 25 extremists broke into the house, dragged the Christians into the street and started beating them. The attackers accused the Christians of engaging in forcible conversion activities and handed four pastors over to local police.
"We have carol rounds during the day," a pastor from Sarangi village told International Christian Concern (ICC). "Because of fear of attacks from the radical Hindu groups, the Christians of this area are scared and cannot celebrate Christianity freely."
Beaten with clubs
In a similar incident on 14 December, twenty Christians from Tikariya village, Rajasthan State, were brutally beaten with wooden clubs by a mob of between twenty and thirty suspected Hindu radicals.
Every year at Christmas, Father Stephen Rawat, the parish priest of Saints Peter and Paul Church in Banswara, Rajasthan state, northwest India, takes parishioners around the city to sing carols in people's homes. This year, a group of about twenty singers, including children, began their carol singing visits on 11 December. On 14 December, after singing in a home, the group ended with a short prayer and went out into the street. As the Christians walked towards their parked cars they were attacked by a mob armed with clubs, batons and sticks.
The priest reported, "While the children ran helter skelter, the women and men were beaten on their hands, legs and backs… They accused the Christians of converting people and shouted 'Bharat Mata ki Jai' (Victory to Mother India)."
He immediately went to the local police station to register a complaint against the attackers, then went to Banswara's Mahatma Gandhi Hospital (where he is pictured, above).
Eight Christians were beaten so severely that they had to go to the hospital. Three were discharged after medical attention, but five were admitted for treatment, including the priest.
Father Stephen said: "I have no enemies. I was beaten up only because of my Christian faith." He said that in the street where the incident occurred there is a hostel of the Rashtriya Swayamsevak Sangh (RSS), "where the ideology [Hindutva] is imparted to young people. It is not unlikely that they were behind this anti-Christian attack."
The RSS is a Hindu nationalist paramilitary volunteer organisation that is considered to be the parent organisation of India's ruling Bharatiya Janata Party. Hindutva is Hindu nationalist ideology.
Reaction
Dr John Dayal, an Indian human rights and religious freedom activist, who is Secretary-General of the All India Christian Council, told ICC: "The season of Advent [and] the month of December have become very difficult for the Christian community for several years. Community prayers, carolers, prayer groups and decorations at small churches have become special targets because of their visibility and the number of people collected for worship. Militant and aggressive elements of various Hindutva groups seem to be waiting just for the Christmas season. Even during the Congress Party's rule, this was the ground situation. The last three Christmas seasons have been particularly tough. In the nation's capital, there are police patrols. But elsewhere, it is just the luck of the draw. Services may be attacked or will pass off peacefully but in palpable tension."
In recent years, other groups of carol singers have been attacked by Hindus claiming the Christians were trying to convert people.
 (Asia News, Crux, International Christian Concern)
Share this