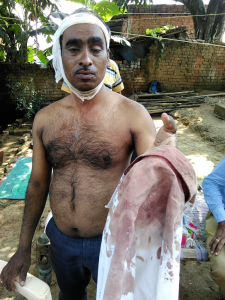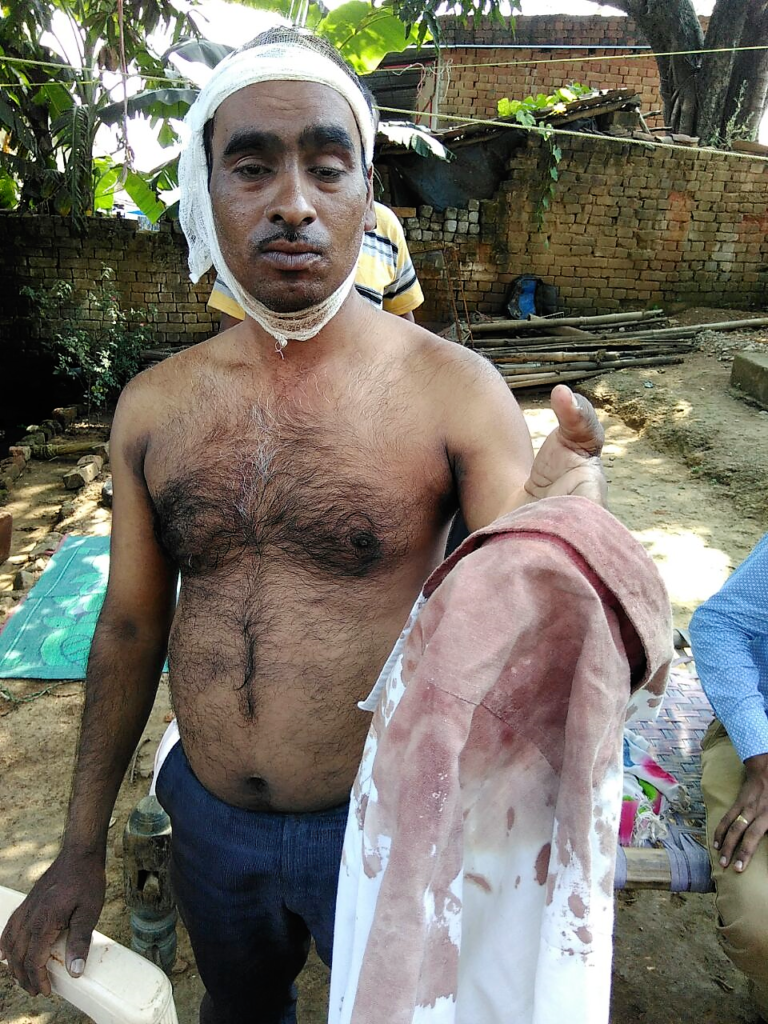 At the Church in Chains conference on 15 September, guest speaker Shibu Thomas provided updates on the four pastors who featured in our recent Postcard Campaign. Church in Chains printed four versions of the postcard, all addressed to the Indian Ambassador to Ireland, Mrs Vijay Thakur Singh, with an image on each version of a pastor who had been attacked and the question: "Why does India allow attacks on Christians?"
The aim of the campaign was to show support for Christians in India who are facing increasing persecution by militant Hindus. Over the past two years the number of attacks on Christians and other religious minorities has increased dramatically and the police rarely prosecute the attackers – on the contrary, following attacks the extremists often drag victims to the local police station and have them arrested on false charges of conversion.
On 10 September, before Shibu left India to travel to Ireland, he spoke to the pastors, or to their relatives if the pastors could not speak English.
Pastor Muniyandi Elangoan Jebaraj (Tamil Nadu)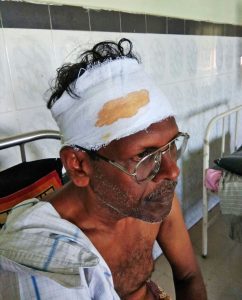 In July 2017, Pastor Jebaraj suffered soft tissue brain damage in a brutal Hindu extremist attack outside his church building. The attackers repeatedly battered him with a knife, sticks and steel rods.
Pastor Jebaraj is unable to converse in English, so Shibu spoke to his son Daniel Jebaraj, who is also a pastor and who was also attacked, though not seriously injured.
Pastor Jebaraj senior has completely recovered and is "busy in the Lord's vineyard". However, religious fundamentalists have filed a legal case against the pastor and his family, which is "moving at a snail's pace".
Pastor Karthik Chandran (Tamil Nadu)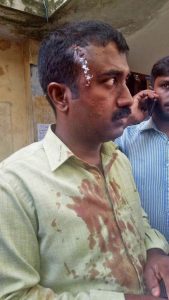 In December 2017, Pastor Chandran was injured by Hindu extremists who attacked a charity event run by his church and broke music equipment, chairs and windows. After the attack the pastor was arrested and the incident was falsely portrayed as a fight between Christians and Hindus.
Pastor Karthik cannot converse in English or Hindi, so Shibu spoke to Pastor Vinodh Kumar of New Life Prophetic Ministries, Coimbatore, who oversees Pastor Karthik's work.
The pastor has completely recovered and is well. He lives in Mathampalayam village, where the incident took place, and ministry work has been suspended in the village so every Sunday he has to travel about 15 km to the city of Coimbatore to worship at the main church. A legal case has been filed and is currently in the High Court.
Pastor Khel Prasad Kurre (Chhattisgarh)
In October 2017, Hindu extremists attacked Pastor Kurre (main picture) on his way home from visiting a church member. They beat him so severely with sticks that he had to be hospitalised, receiving twelve stitches to his head. The police threatened him with arrest on charges of luring people into Christianity.
Shibu spoke to Pastor Kurre and learned that he has recovered and is completely healed. The pastor's ministry in his village is flourishing "by the grace of God", but outstation work in four or five other villages has been closed down because of the incident.
Pastor Harjot Singh Sethi (Punjab)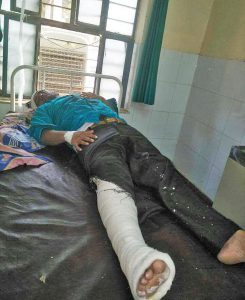 In August 2017, Pastor Sethi suffered serious head injuries and a broken leg when a mob of Hindu extremists attacked a house-church service he was addressing on a visit to Rajasthan state. They accused the Christians of forced conversions and beat them with steel rods and sticks. The extremists tried to force the pastor to shout "Jai Sri Ram" [Hail, Lord Ram] and when he refused they took him to a police station and accused him of "forceful conversion". Such was the ferocity of the mob that it was difficult to get the pastor out of the police station safely to hospital.
Shibu spoke to Pastor Singh, who has completely recovered and is serving the Lord in Baghwanpur, Jalandhar, Punjab. After the incident, neighbours objected to worship services continuing in the same place and the landlord refused to rent the property to the church, so the congregation is meeting in a temporary shed.
Update on Dr K. A. Swamy (Telangana)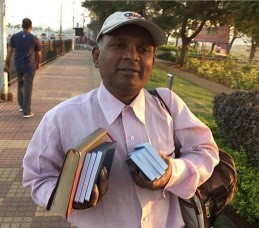 Shibu was also able to provide an update on the case of an evangelist who suffered a brain haemorrhage in January 2017 after Hindu extremists threatened him while he was distributing Bibles.
Dr Swamy is a professor of engineering and also volunteers with the Gideons, an international organisation that distributes free Bibles. He was giving out Bibles on the streets of Hyderabad, capital of Telangana, when a group of extremists surrounded him and threatened to kill him and his family. They took him to the police station, where he spent the day in custody. Previously a fit and healthy man, on the way home he complained of dizziness and collapsed. He was hospitalised with a brain haemorrhage, which a neurosurgeon said he believed was caused by hypertension.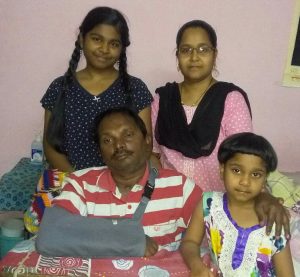 Shibu spoke to Dr Swamy's brother-in-law Abraham Lincoln, who said Dr Swamy is wheelchair-bound and has been unable to walk or speak since the incident. It is believed he has been suffering from memory problems and has been unable to recognise people, but it seems that his cognitive powers are beginning to return slowly. Dr Swamy is being cared for at his home, where a physiotherapist visits him every day. His wife works in a Christian Mission School and is on a low salary, and the family is struggling to make ends meet because of huge monthly medical bills. Dr Swamy and his wife have two daughters aged twelve and four, who are both in school.
(Persecution Relief)
Share this