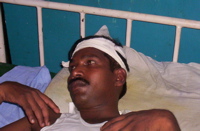 A crowd of nearly 500 Hindu villagers attacked the pastor of a house church (Pastor Raju, pictured left)), his wife and other church members in the southern state of Karnataka on Sunday 1 May. The attackers sexually molested female church members and burned Bibles and other Christian literature.
About 60 people were present at the Sunday service of King Jesus Church, which meets in the Mysore district in Karnataka state.
"Pastor Raju was beaten up until he started bleeding profusely. His wife was also bleeding terribly. And Mr. Nagraj, an elder of the church, was also seriously injured in the attack."
The mob completely damaged all the items in the hall where the worship was going on. The May 1 attack echoed an earlier incident on April 1, when a mob of about 200 people gathered in front of Raju's house and demanded that he close down the church and leave the district.
Police acted swiftly and arrested five suspects.
Only one million of the 52.8 million inhabitants of Karnataka state are Christians. Hindus number 44.3 million, according to 2001 census figures.
During April, churches in Kerala and Manipur state were also violently attacked by mobs. (Compass)
Share this