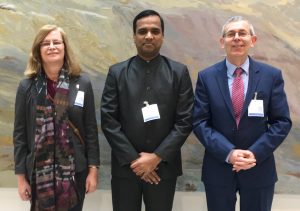 Today in Leinster House, a Church in Chains delegation comprising Director David Turner, Advocacy Officer Pamela Coulter and Baiju George, an Indian pastor, made a presentation about the rise of persecution of Christians in India to TDs and Senators to the Oireachtas Joint Committee on Foreign Affairs.
The meeting was held following the publication of a Church in Chains report titled "OFFICIAL INDIA: ON THE SIDE OF THE MILITANTS" – An analysis of the persecution of Christians in India with the tacit approval of police and government officials", which details the attacks on Christians in India during the period July – December 2017.
Watch the Committee Meeting (begins at 1.44)
David Turner began by explaining the work of Church in Chains on behalf of persecuted Christians worldwide in raising awareness, encouraging prayer, advocating for justice and supporting victims. He went on to underline some of the facts behind the report, which documents a representative sample of 57 serious incidents of persecution of Christians during the period July – December 2017. He emphasised that this is almost certainly a gross understatement of the actual number of incidents during the period. In 2016, Indian Christian organisations reported 441 incidents, while a total of 736 incidents were reported during 2017. Preliminary statistics for the period January – mid-March 2018 from one monitoring group show 90 documented cases. Mr Turner said the persecution was continuing and presented the committee with an update covering the period Jan – Mar 2018. Mr Turner then summarised four case histories for the committee including that of Pastor Khel Prasad Kurre who was attacked by Hindu extremists in Chhattisgarh state in October 2017 while on his way home from visiting a member of his church.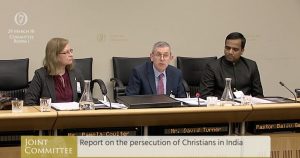 Pastor Baiju George, an Indian pastor living in Ireland since 2006, spoke about what he saw as some of the reasons behind the rise of persecution in India. He said that new Hindu extremist groups (who believe in Hindutva – the ideology that India should be for Hindus only) are being formed in every state and are focusing on countering people becoming Christians. He said that there has been an increase in people converting to Christianity across India and that the Hindu extremist groups were very angry at this trend. He said that most of the violent attacks are taking place in villages and that Christian churches in cities are seldom attacked because of their size and visibility. However, Hindu extremists target all kinds of Christians and Christian activity including attacking Christian family meetings in homes. Pastor George said extremists frequently state that the Christians who they have attacked have been involved in "conversion" activities as they know that such comments can stir up hostility. Pastor George also mentioned that other religious minorities have faced attacks including Muslims who are accused of selling beef (even if the meat they have been selling is buffalo or goat).
Ms Pamela Coulter summarised the recommendations of the Church in Chains report including recommending to the Indian government that Prime Minister Modi speak clearly and consistently in support of full religious freedom; that state governors make clear that religiously motivated violence will not be tolerated; and that police stop arresting victims and ensure perpetrators are brought to justice.
Ms Coulter also called on the Minister for Foreign Affairs to publicly express concern at the upsurge of violence against Christians in India; to raise the matter with the Indian ambassador to Ireland; and to raise the issue as a priority for the next session of the EU-India Human Rights dialogue. Finally, Ms Coulter asked the Joint Committee to invite the Indian ambassador to Ireland to attend a meeting to respond to the serious situation outlined in the report.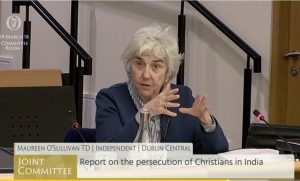 Committee members responded to the presentation with a number of comments and questions. Maureen O'Sullivan TD (pictured) asked if persecution was happening to mainstream churches in India and also asked about the role of state governors in halting persecution. Seán Crowe TD commented on the large number of attacks in Uttar Pradesh and asked if questions of power or wealth were triggers for attacks. He also questioned the role of social media being used to film and broadcast such attacks and wondered if companies such as Facebook had a case to answer. He said that he believed that the key point of the report was that the attacks were occurring with the tacit approval of the police.
In response, Pastor George said that the governor of Uttar Pradesh was a very strong Hindu, which helps to explain the atmosphere in the state being supportive to Hindu extremist actions. Regarding the trigger for attacks, he said that the simple truth was that Hindu extremists who believe in the Hindutva ideology just don't want Christians in India and have blatantly said "This is a Hindu nation".
Seán Barrett TD said that he was shocked by Church in Chains' report saying that it was at variance with his own experience when visiting India some years ago. He joined other committee members in saying that it was completely unacceptable that such persecution was continuing. Noel Grealish TD also condemned the anti-Christian violence but said that a broader approach (encompassing Muslim victims of Hindu extremist violence) should be adopted.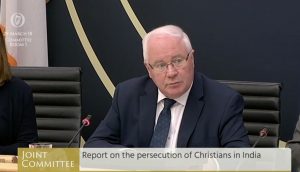 Committee chairman Brendan Smith TD (pictured) commended Church in Chains for bringing the report to the committee and lamented the fact that reports of persecution did not receive much media attention. He said that the Joint Committee would act on the report's recommendations by inviting the Indian Ambassador to attend the committee to respond to the report and that he would also write to Mr Simon Coveney, Minister for Foreign Affairs, encouraging him to take up the matter at the next meeting of the EU Foreign Ministerial Council.
Share this