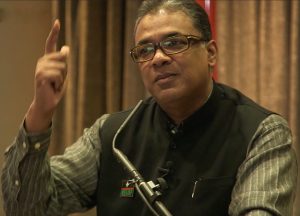 Shibu Thomas (pictured), founder of Persecution Relief, asked delegates at Church in Chains' annual conference to pray for the church in India, which he said is going through an unprecedented time of persecution. You can watch a ten-minute summary of Shibu's talk here.
2017 was the worst year for Christians since Indian independence seventy years ago. From 2014 [since the election of the BJP party], Hindu fanatic religious leaders have gained huge influence in Indian society. They believe and fear that many conversions are happening because of missionary work. Now, they term any social work done by Christians as "conversion" meaning that it is becoming very difficult for Christians to continue such work.
House churches are being closed down all over India. Closures began in the central states of India but now this campaign has spread throughout the whole country. The government is not directly involved in the persecution but Shibu said that the government is "mum" or silent on the issue and is aware of all that is happening.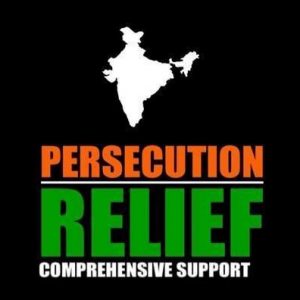 Shibu told the conference of his own call to the ministry of Persecution Relief in 2015. He explained that prior to that time he was a businessman living a very comfortable life. He said that he initially resisted the Holy Spirit's call and thought of what his friends and family would think. However, he then accepted God's call and began to work. He said that God gave him the name Persecution Relief and the logo (pictured). Shibu stated that Persecution Relief has dealt with over 1,200 persecution cases in the past three years and that he speaks to all victims of persecution as he sees it as a very important part of the ministry to support and encourage Christians personally at this vital time. Persecution Relief gives immediate financial assistance to all who need it to pay for medical care, legal expenses or repair of equipment and property.
Shibu said that the work is not easy and that he faces challenges in it. He said that he has received death threats and that ten Christians have told him that they have had visions of him being killed. He said "the extra mile is not easy" referring to Jesus' teaching to the apostles to carry the burden of oppression.
Turning to the question of how Christians respond to persecution, Shibu said that 95% respond well and come back victorious – he said that God does not allow anyone to be persecuted for whom it is not in the plan of the Lord. He also said that families of persecuted pastors do get "disappointed" at what has happened.
Shibu told delegates not to pray for the persecution to stop, as he said that it is not Biblical to do so. Instead, he encouraged delegates to pray for three prayer points:
That the church in India will be filled with the Holy Spirit and not fear.
That the persecutors will turn to Christ (just as Saul became Paul). He said that the Lord had given him a clear vision that Hindu fanatics will turn to Christ and bring the Gospel to the Hindus of India.
That no one in the church in India will be lost. He said that the Lord had told him to focus on consolidating the church in these days of persecution and reminded delegates that the apostle Paul wrote 14 letters to various churches with the main aim of consolidating them.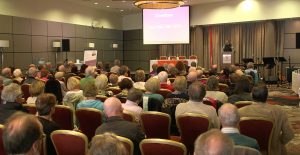 In the afternoon session, Shibu gave an update about the situation of four pastors who featured in Church in Chains' postcard campaign earlier in the year and delegates participated in a wide-ranging question and answer session on India with him.
There were also updates about Christian prisoners in other countries, from the youngest (15-year-old Leah Sharibu from Nigeria) to the oldest (Patriarch Antonios, aged 91, from Eritrea) and including Andrew Brunson, the American pastor being held in Turkey. The updates were followed by prayer for the individual prisoners. The conference also included times of praise and prayer and an update on the work of Church in Chains.
Share this