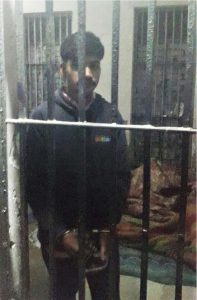 At least 800 families fled a Christian neighbourhood in Lahore after an 18-year-old Christian, Patras Masih, was accused of posting a blasphemous image on Facebook.
A mob of over 3,000 Muslims led by the Tehreek Labbaik Ya Rasool Allah and other Islamist parties gathered on Monday 19 February, in response to announcements from mosque loudspeakers, and threatened to burn down local Christians' homes. Police took Patras into custody late that night, after a day of protests.
Patras lives in the Dhair neighbourhood of Shahdara, a northern suburb of Lahore, where he and his family are members of Bethania Church. The Dhair neighbourhood is home to about 2,000 Christian families, and Bishop Emmanuel Masih of God's Church in Lahore said at least 800 of those families fled to stay with relatives elsewhere, fearing a repeat of previous cases when Christian neighbourhoods were torched following blasphemy accusations.
Patras Masih was accused of having posted a blasphemous image on a group Facebook page from his mobile phone a month previously, on 16 January. Some reports suggest that someone other than Patras posted the allegedly blasphemous photo from his phone; others that he inadvertently shared a photo posted by others.
Patras' father Indreyas Masih said his son's phone had been in a repair shop since December. "My son is illiterate and works as sweeper at a private bank," he said. "He has never been involved in any religious dispute with any Muslim in the village. I'm unable to understand why he has been trapped in this case."
Accusation
Shahdara Town Police registered a First Information Report (FIR) lodged by local man Hafiz Muhammad Awais under Section 295-C of the Pakistan Penal Code. He alleged that Patras posted blasphemous content that defamed the prophet Muhammad on Facebook on 16 January, and stated in his FIR: "After seeing this post, I asked Muhammad Siddique [moderator of the group], who immediately phoned the suspect, Patras Masih, and asked him to remove the post. But Patras refused to remove the post, after which the area residents are quite upset and angry."
On the evening of Sunday 18 February, three men came to Patras' family home, showed his mother Saima Bibi a picture of her son and asked if he was home. He was out, and was still out when four men tried again later.
Saima told World Watch Monitor, "When Patras came home, we told him and he could not make sense of why these people were looking for him. Early the next morning, Patras and his father left for work, where his friend told him on the phone that people were gathering outside, after which the two of them fled while I came back home. The police knocked on the door while I was in the washroom. They left after searching, without finding me. I spent all day in the washroom and at night I went to the second floor of the building and jumped to a neighbour's house."
Riot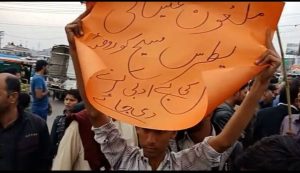 Early on Monday 19 February, clerics began making announcements from mosque loudspeakers calling on all Muslims to gather and protest against the alleged blasphemy. An angry mob started gathering from 7 am, bringing petrol to start fires, and grew to over 3,000 in number. The mob set tyres alight and blocked part of the Grand Trunk Road (which connects Lahore with the rest of Pakistan), demanding that Patras be publicly hanged – the sign in the photo reads, "Wicked Christian Patras must be punished for committing blasphemy!"
The police arrived, bringing clerics to negotiate with the mob. The rioters told police they would burn down Christians' homes if Patras were not arrested. The police got the road clear for traffic by the evening, and a large police contingent was deployed in the area to prevent violence, but the mob continued to demand an arrest and public hanging, and dispersed only after the local police chief said the accused had been arrested and charged with blasphemy.
Sub-Inspector Haji Munir, who is leading the investigation, told World Watch Monitor: "A huge number of people who were extremely angry had gathered and blocked the road, but thank God that no untoward incident took place and now the situation is under control. Patras was told by other members of the Facebook group to delete the post, but he remained adamant, after which this issue arose. Patras is still under investigation but soon will be sent to jail."
Patras' uncle reported, "In the evening, when the angry mob was getting out of control, we went to the superintendent of police's office and handed Patras to them. Since then we don't know what is taking place with him."
Patras' father Indreyas, who works as a driver, told Morning Star News by phone from an undisclosed location that he was at work when he heard about the protests. "I was on duty when I received a phone call from my family that announcements are being made from mosque loudspeakers that my son Patras has committed blasphemy and should be punished for his crime," he said. "I was shocked to hear this news and immediately asked my family members to leave the village."
He added, "We handed Patras to the police late on Monday after a provincial Christian lawmaker, Tariq Gill, told us that the protestors won't back down until we surrender my son."
The day after the riot, mosque announcements called on Christians to return to their homes, as the "blasphemer" had been arrested and they need not fear reprisals from Muslims.
Aneeqa Maria, a lawyer with The Voice Society, told Morning Star News that the organisation will provide legal assistance to the family. She said, "I believe the police jumped the gun due to the pressure exerted by the religious parties and charged Patras under Section 295-C to placate the mobs."
Press conference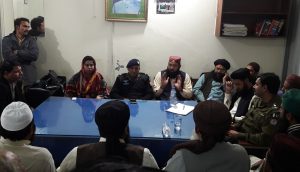 Several Islamic clerics and a few Christian leaders held a press conference at Shahdara Police Station on the evening of 20 February and signed a joint statement calling for Christians to return and live peacefully with their Muslim neighbours, as before. The photo of the press conference shows Punjab Assembly Member Mary Gill, who signed the statement on behalf of the Christian community, beside Police Superintendent Syed Ali Raza, with two Islamic clerics beyond him.
The statement said, "The Christian community has guaranteed that they would not interfere in the religious matters of Muslims any further. And neither would any such incident [of disrespect] take place anymore. [Christians] will respect the religion of Muslims and holy places and their religious festivals and they [the leaders] will teach this to the members of their community."
(British Pakistani Christians/Morning Star News/Pakistan Today/World Watch Monitor)
Share this