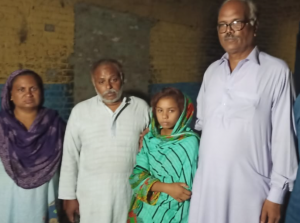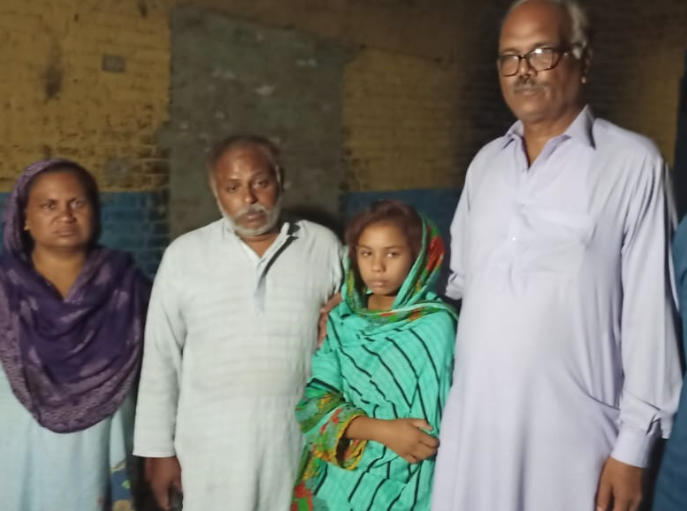 On 29 May 15-year-old Saba Masih, who was kidnapped on 20 May in Faisalabad and reportedly converted to Islam, was recovered by the police.
Saba's father Nadeem Masih, a sanitation worker at a textile factory, said his daughter was abducted from the Madina Town area of Faisalabad when she and her older sister were on their way to work. The two oldest daughters recently had to start working to support the family, as their mother had injured her knee and was not able to go to work. "I was forced to take my children, four daughters and two sons, out of school due to poverty, and my wife and elder daughters are working as household helps to supplement our family income." 
Their 45-year-old neighbour Muhammad Yasir, who allegedly has been married three times, abducted Saba and took her away in a rickshaw. The police refused to take action to rescue Saba. Her father told Morning Star News: "The police are not cooperating with us. The investigating officer keeps telling us that Saba has converted to Islam and contracted marriage with Yasir, but he has not shown us any document as yet. We are pleading with police to at least recover the girl and arrange our meeting with her so that we can ascertain the facts ourselves, but he doesn't listen to us."
However, after rights activist Lala Robin Daniel organised a series of daily protests from 7pm to 12am against forced conversions and marriages of minority girls in Faisalabad, they recovered Saba. Lala Robin Daniel stated: "Police had earlier told her parents to wait for her statement of conversion and marriage claiming her Islamic Nikah [marriage contract] had been solemnized. The pressure from the community forced to act promptly. At least 20 people were arrested. The recovery of the victim is a great success. We shall continue the struggle for other abducted Christian girls."
Anglican Church of Pakistan Moderator Azad Marshall stated on Twitter, "Social indifference to predators who use religion to pursue and target minorities and the vulnerable, continuing to saw away at all of our futures. The violation of Saba Masih in Faisalabad is another reminder of just how grim the situation is."
It is estimated that every year at least 1,000 Christian girls and women are kidnapped and forced to convert to Islam and marry their abductors, who are much older Muslim men, often acquaintances who are already married with children. This has increased in frequency in recent years, and is also an issue for Hindus. Perpetrators know that the likelihood of conviction is low.
(Kross Konnection, Morning Star News)
Share this