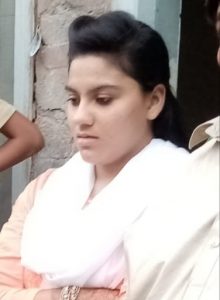 On 22 July, 15-year-old Saneha Kinza Iqbal was kidnapped on her way to church in Faisalabad by a 30-year-old Muslim married man. Saneha is the youngest of five children of 55-year-old pastor Morris Masih, who fears that his daughter will be forced to convert to Islam and marry her abductor. It took the family until 19 August to be able to file a report with the local police because officers initially refused to cooperate with the Christians.
Saeed Amanat, Saneha's abductor, is a father of four and works as a security guard at the Allied Hospital in Faisalabad. Between 2 and 13 June, Saneha's mother Rukhsana Bibi was hospitalised as she had injured her hip. The security guard became familiar with the teenage girl when she was visiting her mother regularly in the hospital during this time.
Early in the morning of 22 July, Saneha went to church for morning prayers. When she did not return home, her family asked neighbours if they had seen the teenager and some said she was seen in a car with strangers. Later, a neighbour confirmed that one of the men in the vehicle was Saeed, who lives in a village 60 km from Faisalabad.
Saneha's brother Waseem Morris informed the police of the abduction, but they did not take action. Waseem proceeded to take matters into his own hands and went to the kidnapper's village to negotiate his sister's release with Saeed's father. At first, the abductor's father promised that the girl would be returned to her family, but several days later, he changed his mind.
On 28 July, Pastor Masih's family received a call from the kidnapper, who threatened them if they dared to take any action to bring Saneha home.
Widespread issue in Pakistan
Saneha is one of a growing number of Christian teenage girls who are abducted by Muslim men, forcibly converted to Islam and then married to their abductors. It is estimated that this fate befalls 700 Christian girls and women every year. In recent years the issue has increased in frequency and also affects Hindu girls and women. Perpetrators know that the likelihood of conviction is low.
In 2020 Church in Chains reported on two similar stories. On 4 August, the High Court in Lahore ordered 14-year-old Maria Shahbaz, who had been abducted and forcibly married to a Muslim man, to be returned to the custody of her kidnapper. On 3 February, the Sindh High Court validated the forced conversion and marriage of 15-year-old Huma Younas, who was abducted in October 2019 and is now reported to be pregnant by her abductor.
The autumn edition of Church in Chains magazine, due to be published next week, will contain a letter campaign addressed to the Pakistani Ambassador to Ireland to demand "Justice for Huma and Maria".
 (Asia News, International Christian Concern)
Share this