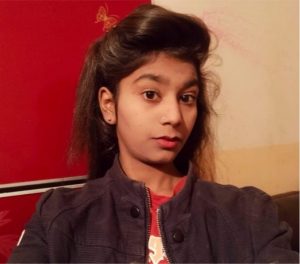 Shakaina Masih (13) went missing on 19 February in Lahore, capital of Punjab province. Her parents Johnson and Samina Masih were shocked when police told them she had converted to Islam and married a Muslim.
A few days after Shakaina's parents registered a missing person report with police, the investigating officer summoned them to the police station and showed them a Nikahnama (Islamic marriage certificate) issued by a cleric from Punjab's Okara District.
"He said that Shakaina was now a married Muslim woman and did not want to return to her family," Johnson Masih told Morning Star News. "According to the Nikahnama, her so-called husband's name is Ali Bashir. We haven't heard this name before. Shakaina is just a kid. She was kidnapped and taken to Okara, where they forcibly converted her and conducted the fake marriage to give it a religious cover."
Shakaina goes missing
Before her abduction, Shakaina worked with her mother in domestic service at bungalows in Lahore's Valencia Town district. Samina went to collect her from a house on 19 February but the residents said she had already left, and when Samina called her other employers, they all said Shakaina was not there either. She told Johnson and after they failed to find their daughter they went to the police.
"The police did not pay heed to our request for registration of an FIR [First Information Report]," Johnson said. "The FIR was finally registered two days later, on February 21." He added that police ignored his pleas to meet his daughter. "It's been over twenty days that our daughter is in the custody of unknown abductors, yet we haven't been able to see her," he said. "We were just handed a photocopy of the Nikahnama and told to approach the court if we wanted to meet her. They also refused to act when we showed them her official birth record, according to which she's just 13 and five months."
Johnson, a member of the Church of Pakistan who works as a sweeper at an office, said he would not rest until his daughter is recovered and brought home. "All hell has broken loose on us," he said. "My family's shattered, and each passing day adds to our misery. Is there no law or justice for poor Christians like us?"
"Great injustice"
Lawyer Rana Abdul Hameed said he had petitioned the Lahore High Court and filed applications with senior police authorities for Shakaina's recovery, but that police showed no interest in the case. "It is great injustice for the poor family," he told Morning Star News. "Their daughter is missing for the last so many days but there's no information yet about her safety and well-being."
The lawyer said cases of forced conversion of minority children in Pakistan are increasing, due to connivance of police and judicial officials. He explained, "Laws barring underage marriage are in place, but police do not apply them in the cases. Moreover, sections related to rape and abduction are also ignored, which enables the perpetrators to obtain bail and walk free from the case. This prejudicial attitude is putting the security of all minority girls at risk and needs to end immediately."
Forced conversion and marriage of minority girls and young women is a huge problem and source of fear among Pakistan's Christian and Hindu communities, and police are often slow to take action to recover the victims. Sex with a girl under the age of 16 is statutory rape in Pakistan, but underage marriage is permissible under Sharia law and in many cases a falsified conversion certificate and Islamic marriage certificate are produced, leading police to side with the abductor.
(Morning Star News)
Share this