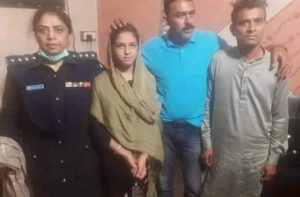 The Sindh High Court has reviewed its judgement of 27 October, when it gave custody of Arzoo Raja, a 13-year-old Christian girl, to her Muslim abductor Ali Azhar (44), and has ordered that she be rescued and that the case be investigated.
Following international outcry, widespread protests in Pakistan and the intervention of Bilawal Bhutto-Zardari, president of the Pakistani People's Party (which leads Sindh's provincial government), on 2 November the Sindh High Court issued an order that police recover Arzoo and produce her for a court hearing on 5 November, and that they arrest Ali Azhar on charges of kidnap, perjury and marriage with a minor. The photo shows Arzoo with a police officer after her rescue.
The court ordered that Arzoo be sent to a women's refuge (Darul Aman) until the court hearing, when it intends to investgate three issues: Arzoo's age; whether she was converted by force; and if the marriage is legal. Justices K.K. Agha and Amjad Ali Sahito ordered medical tests to determine Arzoo's age despite her parents having provided official documents including her birth certificate and school record confirming her to be aged 13.
 Ali Azhar, a neighbour of the Raja family in Karachi, kidnapped Arzoo on 13 October and claimed that she was aged 18 and had converted to Islam and married him of her own free will. He was already married with children. Arzoo's parents filed a kidnapping report, but on 27 October the Sindh High Court ruled in favour of the marriage.
Azhar appeared before a judge on 3 November and was remanded to police custody until Friday 6 November. He is expected to be present at the Sindh High Court hearing on 5 November.
Reaction
Rev Diego Saleh, vicar general of Karachi and director of the Karachi Justice and Peace Commission, thanked all Christians and Muslims who had acted and prayed for Arzoo, including the Sindh government and the police, but added, "Our struggle is not over, it is only at the beginning because there are still hundreds of Arzoos waiting for justice and a freedom."
Naveed Walter, president of Human Rights Focus Pakistan, told Asia News that the number of kidnappings, forced conversions and forced marriages is growing. He said that in May 2019 a law prohibiting the marriage of under-18s was approved in the Senate but its implementation is at a standstill in parliament because some members oppose the law as the Council of Islamic Ideology rejects it as contrary to Sharia and Islam.
A study by the Movement for Solidarity and Peace Pakistan estimates that every year in Pakistan 1,000 Christian and Hindu girls and women aged between 12 and 25 are abducted by Muslim men, forcibly married and converted.
According to UNICEF figures, 21% of girls in Pakistan are married before the age of 18 and 3% are married before the age of 15.
(Asia News, Morning Star News)
Share this