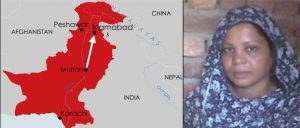 Asia Bibi was finally released from Multan prison on 7 November and flown to Islamabad, capital of Pakistan, where she is being held under heavy security. Her release from prison came a week after she was acquitted of blasphemy by Pakistan's Supreme Court.
The aircraft carrying Asia landed at the old Benazir Bhutto International Airport of Islamabad adjacent to Nur Khan Air Base. Soon after landing, Asia was taken to an undisclosed location in Islamabad amid tight security. The authorities are keeping her movements and whereabouts secret for security reasons and it is unclear if she will be kept in Islamabad or allowed to fly out of the country.
Initial reports that she was on a plane to the Netherlands have been firmly denied by a spokesman for Pakistan's Foreign Ministry, who said that she will not be flown out of the country until judgment is given on the review petition filed against the Supreme Court acquittal. While such petitions are normally adjudicated within 30 days, the Chargés d'Affaires at Pakistan's Dublin Embassy said earlier this week that the Supreme Court was extremely busy and many other cases could take priority. The review petition would be heard by an expanded bench of the Supreme Court (three Supreme Court judges heard the appeal).
There is continuing confusion about whether or not Asia's name has been placed on Pakistan's Exit Control List – a key demand of the protesters who brought many parts of Pakistan to a standstill last week as they called for her to be hanged.
Christians in Pakistan are delighted at the news that Asia has finally been released from prison (after more than nine years) but remain deeply concerned for her safety and also for the safety of Pakistan's Christians in general. One source said, "We fear there may be more violence on Friday, because in extremist mosques this will certainly be discussed. Friday protests have already been called. It's possible Christians will be targeted."
What happens next?
Wilson Chowdhry of the British Pakistani Christian Association spoke this morning with the family of Asia Bibi and they said that is of the utmost importance that there be no further speculation on her whereabouts reported by either concerned groups or international media.  She and her family and guardians all face a real danger of being killed.
(British Pakistani Christian Association/Dawn/Express Tribune/Open Doors)
Share this